Announcing the Raspberry Jam Big Birthday Weekend 2018
Update: see the new Raspberry Jam Big Birthday Weekend page for more up-to-date information.
For the last few years, we have held a big Raspberry Pi community event in Cambridge around Raspberry Pi's birthday, where people have come together for a huge party with talks, workshops, and more. We want more people to have the chance to join in with our birthday celebrations next year, so we're going to be coordinating Raspberry Jams all over the world to take place over the Raspberry Jam Big Birthday Weekend, 3–4 March 2018.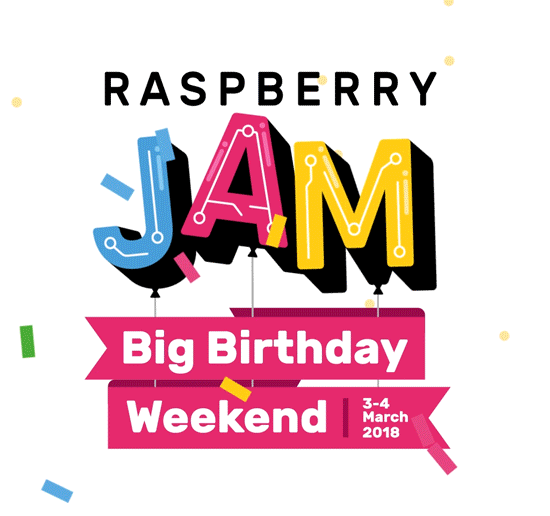 Big Birthday fun!
Whether you've run a Raspberry Jam before, or you'd like to start a new Jam in your area, we invite you to join us for our Big Birthday Weekend, wherever you are in the world. This event will be a community-led, synchronised, global mega-Jam in celebration of our sixth birthday and the digital making community! Members of the Raspberry Pi Foundation team will be attending Jams far and wide to celebrate with you during the weekend.
Jams across the world will receive a special digital pack – be sure to register your interest so we can get your pack to you! We'll also be sending out party kits to registered Jams – more info on this below.
Need help getting started?
First of all, check out the Raspberry Jam page to read all about Jams, and take a look at our recent blog post explaining the support for Jams that we offer.
If there's no Jam near you yet, the Raspberry Jam Big Birthday Weekend is the perfect opportunity to start one yourself! If you'd like some help getting your Jam off the ground, there are a few places you can get support:
The Raspberry Jam Guidebook is full of advice gathered from the amazing people who run Jams in the UK.
The Raspberry Jam Slack team is available for Jam organisers to chat, share ideas, and get help from each other. Just email jam [at] raspberrypi.org and ask to be invited.
Attend a Jam! Find an upcoming Jam near you, and go along to get an idea of what it's like.
Email us – if you have more queries, you can email jam [at] raspberrypi.org and we'll do what we can to help.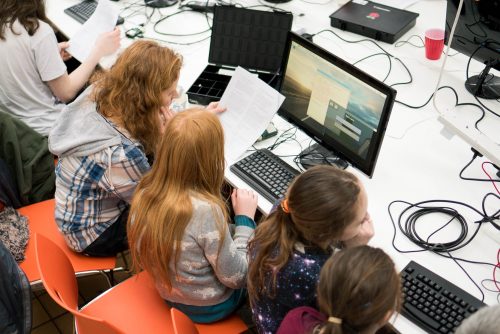 Get involved
If you're keen to start a new Jam, there's no need to wait until March – why not get up and running over the summer? Then you'll be an expert by the time the Raspberry Jam Big Birthday Weekend comes around. Check out the guidebook, join the Jam Slack, and submit your event to the map when you're ready.
Like the idea of running a Jam, but don't want to do it by yourself? Then feel free to email us, and we'll try and help you find someone to co-organise it.
If you don't fancy organising a Jam for our Big Birthday Weekend, but would like to celebrate with us, keep an eye on our website for an update early next year. We'll publish a full list of Jams participating in the festivities so you can find one near you. And if you've never attended a Jam before, there's no need to wait: find one to join on the map here.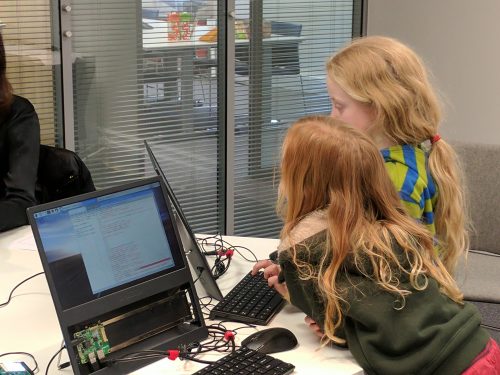 Register your interest
If you think you'd like to run a Jam as part of the Big Birthday Weekend, register your interest now, and you'll be the first to receive updates. Don't worry if you don't have the venue or logistics in place yet – this is just to let us know you're keen, and to give us an idea about how big our party is going to be.
We will contact you in autumn to give you more information, as well as some useful resources. On top of our regular Raspberry Jam branding pack, we'll provide a special digital Big Birthday Weekend pack to help you celebrate and tell everyone about your Jam!
Then, once you have confirmed you're taking part, you'll be able to register your Jam on our website. This will make sure that other people interested in joining the party can find your event. If your Jam is among the first 150 to be registered for a Big Birthday Weekend event, we will send you a free pack of goodies to use on the big day!
Go fill in the form, and we'll be in touch!
PS: We'll be running a big Cambridge event in the summer on the weekend of 30 June–1 July 2018. Put it in your diary – we'll say more about it as we get closer to the date.