On 4 and 5 March 2017, more than 1,800 people got together in Cambridge to celebrate five years of Raspberry Pi and Code Club. We had cake, code, robots, explosions, and unicorn face paint. It was all kinds of awesome.
It's hard to believe that it was only five years ago that we launched the first Raspberry Pi computer. Back then, our ambitions stretched to maybe a few tens of thousands of units, and our hope was simply that we could inspire more young people to study computer science.
Fast forward to 2017 and the Raspberry Pi is the third most successful computing platform of all time, with more than twelve and a half million units used by makers, educators, scientists, and entrepreneurs all over the world (you can read more about this in our Annual Review).
On 28 February, we announced the latest addition to our family of devices, the Raspberry Pi Zero W, which brings wireless connectivity and Bluetooth to the Pi Zero for an astonishing $10. You seemed to like it: in the four days between the product launch and the first day of the Birthday Party, we sold more than 100,000 units. We absolutely love seeing all the cool things you're building with them!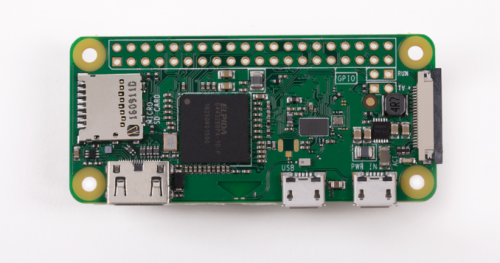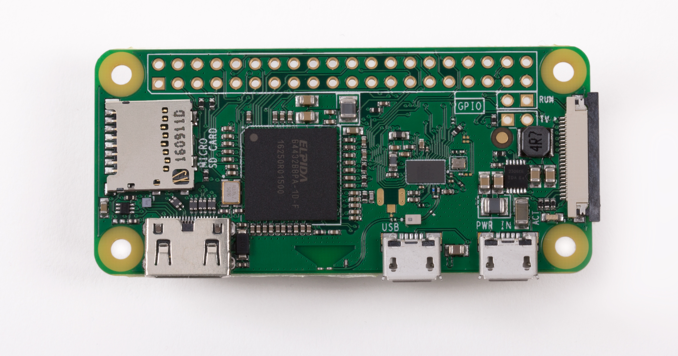 Celebrating our community
Low-cost, high-performance computers are a big part of the story, but they're not the whole story. One of the most remarkable things about Raspberry Pi is the amazing community that has come together around the idea that more people should have the skills and confidence to get creative with technology.
For every person working for the Raspberry Pi Foundation, there are hundreds and thousands of community members outside the organisation who advance that mission every day. They run Raspberry Jams, volunteer at Code Clubs, write educational resources, moderate our forums, and so much more. The Birthday Party is one of the ways that we celebrate what they've achieved and say thank you to them for everything they've done.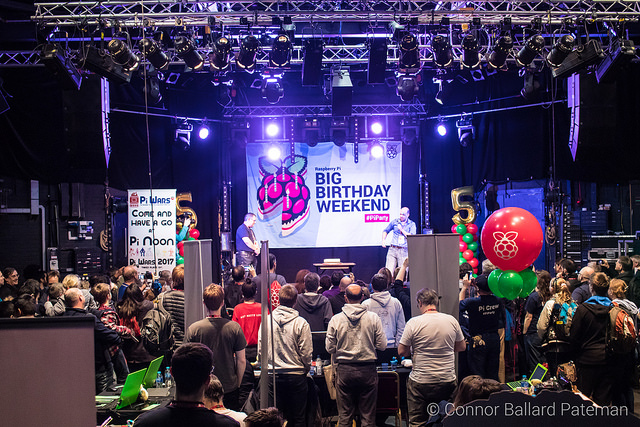 Over the two days of the celebration, there were 57 workshops and talks from community members, including several that were designed and run by young people. I managed to listen to more of the talks this year, and I was really impressed by the breadth of subjects covered and the expertise on display.
Big thanks to @Raspberry_Pi for letting me run #PiParty @edu_blocks workshop and to @cjdell for his continuing help and support pic.twitter.com/knx9ztvrCg

— All About Code (@all_about_code) March 5, 2017
Educators are an important part of our community and it was great to see so many of our Certified Educators leading sessions and contributing across the whole event.
Thanks to my panel of @raspberry_pi certified educators – you are all amazing! #piparty https://t.co/0psnTEnfxq pic.twitter.com/DVyscW3Ynl

— Carrie Anne Philbin MBE (@MissPhilbin) March 4, 2017
Hands-on experiences
One of the goals for this year's event was to give everyone the opportunity to get hands-on experience of digital making and, even if you weren't able to get a place at one of the sold-out workshops, there were heaps of drop-in and ask-the-expert sessions, giving everyone the chance to get involved.
The marketplace was one of this year's highlights: it featured more than 20 exhibitors including the awesome Pimoroni and Pi Hut, as well as some great maker creations, from the Tech Wishing Well to a game of robot football. It was great to see so many young people inspired by other people's makes.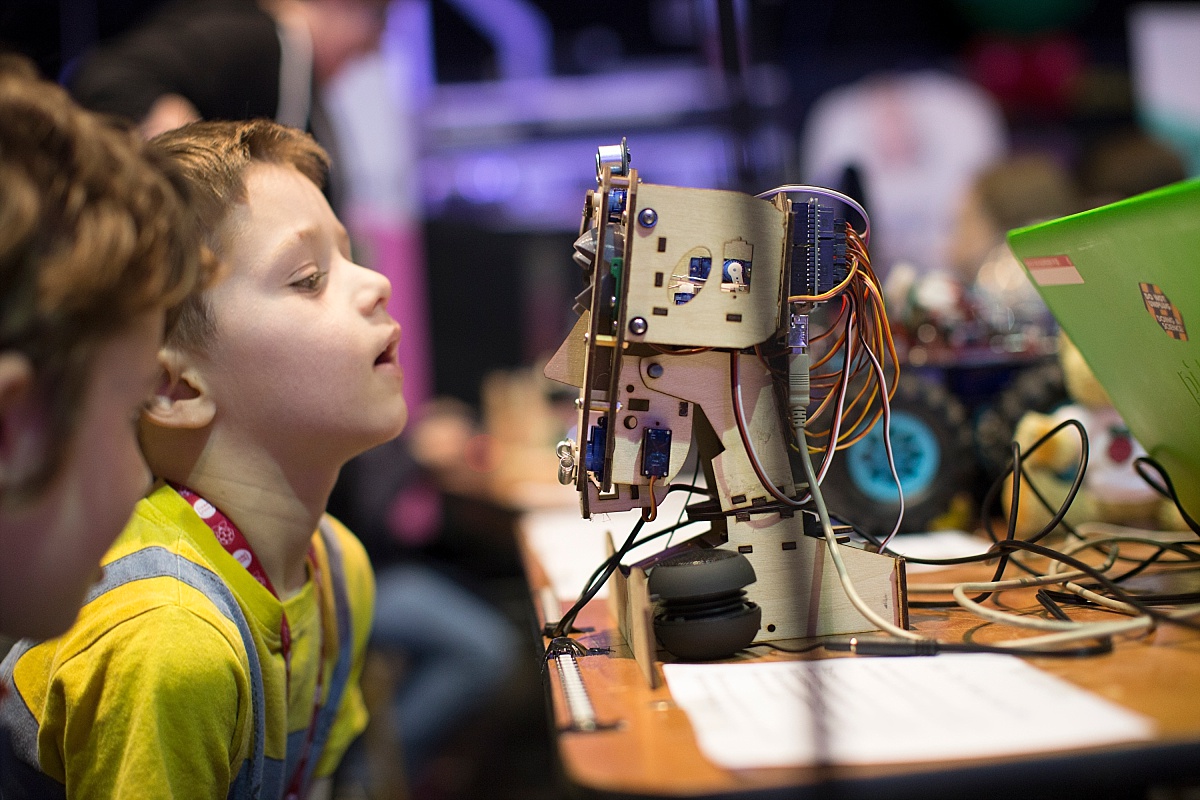 Code Club's celebrations
As I mentioned before, this year's party was very much a joint celebration, marking five years of both Raspberry Pi and Code Club.
Since its launch in 2012, Code Club has established itself as one of the largest networks of after-school clubs in the world. As well as celebrating the milestone of 5,000 active Code Clubs in the UK, it was a real treat to welcome Code Club's partners from across the world, including Australia, Bangladesh, Brazil, Canada, Croatia, France, New Zealand, South Korea, and Ukraine.
Our amazing team
There are so many people to thank for making our fifth Birthday Party such a massive success. The Cambridge Junction was a fantastic venue with a wonderful team (you can support their work here). Our friends at RealVNC provided generous sponsorship and practical demonstrations. ModMyPi packed hundreds of swag bags with swag donated by all of our exhibitors. Fuzzy Duck Brewery did us proud with another batch of their Irrational Ale.
We're hugely grateful to Sam Aaron and Fran Scott who provided the amazing finales on Saturday and Sunday. No party is quite the same without an algorave and a lot of explosions.

Most of all, I want to say a massive thank you to all of our volunteers and community members: you really did make the Birthday Party possible, and we couldn't have done it without you.
One of the things we stand for at Raspberry Pi is making computing and digital making accessible to all. There's a long way to go before we can claim that we've achieved that goal, but it was fantastic to see so much genuine diversity on display.
Probably the most important piece of feedback I heard about the weekend was how welcoming it felt for people who were new to the movement. That is entirely down to the generous, open culture that has been created by our community. Thank you all.