Raspberry Jam Big Birthday Weekend 2018
To celebrate the Raspberry Pi's sixth birthday, we're coordinating Raspberry Jams all over the world to take place over the Raspberry Jam Big Birthday Weekend, 3–4 March 2018. Read the announcement on our blog.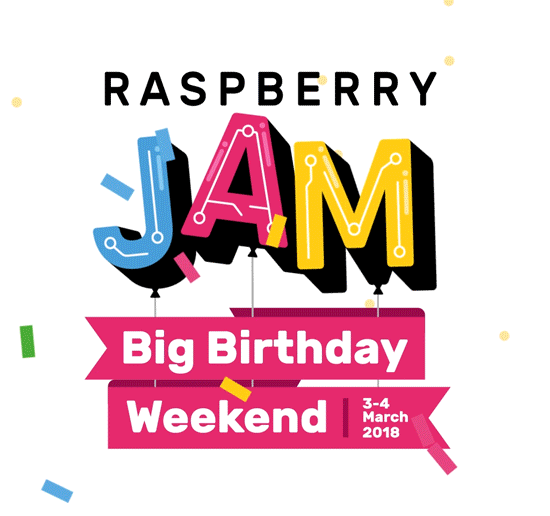 Whether you've run a Raspberry Jam before, or you'd like to start a new Jam in your area, we invite you to join us for our Big Birthday Weekend, wherever you are in the world. This event will be a community-led, synchronised, global mega-Jam in celebration of our sixth birthday and the digital making community! Members of the Raspberry Pi Foundation team will be attending Jams far and wide to celebrate with you during the weekend.
We have made a special branding pack for the Big Birthday Weekend,  We'll also be sending out party kits to registered Jams — more info on this below.
What you need to do
Step 1

Choose a date and book your venue
Step 2

Let us know your date and venue
Step 3

Announce your event
(Eventbrite/Meetup/webpage)
Step 4

Submit to the Jam map
Step 5

Apply for a Jam kit and a birthday kit (coming soon)
Planning
The birthday weekend is Saturday 3 and Sunday 4 March 2018, and you can host your Jam on either (or both) of these days.
You'll need to book a venue for your event as soon as possible. For help with finding a venue, check out the chapter on events in our Raspberry Jam Guidebook.
Announce your event
Once you've booked your date and venue, you'll need to publish the details online. You might want to use a ticketing website like Eventbrite or Meetup. Your other option is to create a simple webpage with the date, time, location, and some information about the activities you'll have at your event.
You can use the digital assets from the special birthday branding pack:
Promotion
Once your Jam has been announced online, you can submit it to the Raspberry Jam map.
Birthday kit
If you haven't already, please apply for a Raspberry Jam starter kit. If you're running another Jam before the Big Birthday Weekend, we'll try and send it to you in time for that. If not, we'll send it in January or February.
All Jams running as part of the Big Birthday Weekend will also receive an extra kit especially for the birthday celebrations. It will contain a poster listing the locations of all Jam joining in the celebrations, and T-shirts with them printed on the back for all your organisers. You'll be able to sign up for this kit shortly.