Read the free computing and digital making magazine by educators for educators
One hundred pages of in-depth discussion, project ideas, lesson plans, news, and reviews.
Subscribe
Issues
Issue 22

Teaching & AI

Recent developments in artificial intelligence are changing how the world sees computing and challenging computing educators to rethink their approach to teaching. In this issue of Hello World, we tackle the big questions about AI and computing education, such as what AI literacy is and how we teach it. Our writers explore a range of topics including gender bias in AI and what we can do about it; how to speak to young children about AI; and why anthropomorphism hinders learners' understanding of AI. Our feature articles also include a research digest on AI ethics for children, and of course practical examples of how you can incorporate AI lessons in your classroom.

Issue 21

Teaching at Primary

Issue 20

Systems & Networks

Issue 19

Sustainability & Computing
Subscribe for free
Receive new issues as soon as they are published. You can change your delivery address or stop your subscription at any time.
Print
Print subscription (UK delivery only)
If you're a UK-based teacher, volunteer, librarian, youth worker or other kind of educator, we'll send each new print issue to you for free.
Digital
New issues via email
Want to read the free PDF? Get each new issue delivered straight to your inbox. No fuss and no spam.
When you click Subscribe, you'll be asked to log in and choose a digital or print subscription.
Subscribe
Are you already a subscriber?
Log in to manage your subscription: change your delivery address, add a digital subscription, or stop your subscription.
Manage your subscription
Buy issues in print
Are you an educator outside the UK who wants the latest issue as a physical copy? Or are you looking for a past print issue in print? Physical copies of the latest issue and past issues are available in our online store.
Buy print issues
Special editions
The Big Book of Computing Content

Hello World's second special edition is here! Whilst our first special edition focused on how we can teach computing, The Big Book of Computing Content focuses on what we can teach. From data and information, to the effective use of tools, to artificial intelligence, The Big Book of Computing Content explores what we mean by computing and aims to provide a common language to describe the different areas of study and competencies, giving you an indispensable companion to understanding the breadth of knowledge contained within this constantly evolving subject. This book complements our first special edition and, as such, it follows the same principle of introducing you to up-to-date research followed by our favourite stories from past Hello World issues, in which educators like you have put that content into practice.

The Big Book of Computing Pedagogy

The Big Book of Computing Pedagogy: Hello World's first-ever special edition focuses on approaches to teaching computing in the classroom, and includes some of our favourite pedagogically themed articles from previous Hello World issues, as well as a couple of never-seen-before features. This special issue aims to be your companion to learning about tried-and-tested approaches to teaching computing. It bridges the gap between research and practice, giving you accessible chunks of research, followed by stories from trusty educators who have tried out various approaches in their classroom or educational space.
Podcast
Subscribe to the Hello World podcast
Hear directly from the educators behind our articles. Listen on the move and never miss an episode by subscribing via your preferred app.
Listen to our podcast right now
You can explore our past episodes now. We talk to Hello World authors to delve a little deeper into key topics — and have some fun along the way.
Explore all podcast episodes
Blog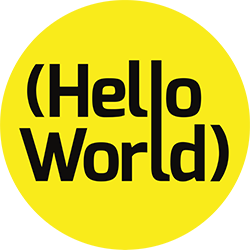 Write for us
You have an idea for an article? Find out how to write for us.
Learn more
Contact us
Send us your questions about Hello World.
Contact form
Follow us
Connect with us and the community to chat about articles and ideas that made you think.