Hello World Issue 3: Approaching Assessment
It's the beginning of a new school year, and the latest issue of Hello World is here! Hello World is our magazine about computing and digital making for educators, and it's a collaboration between The Raspberry Pi Foundation and Computing at School, part of the British Computing Society.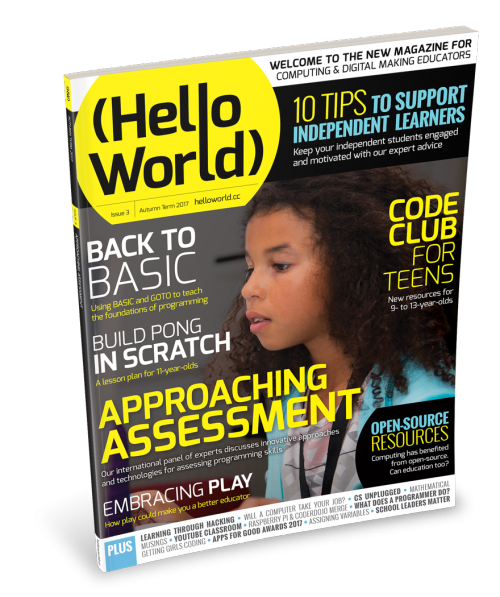 In issue 3, our international panel of experts takes an in-depth look at assessment in computer science.
Approaching assessment, and much more
Our cover feature explores innovative, practical, and effective approaches to testing and learning. The issue is packed with other great resources, guides, features and lesson plans to support educators.
Highlights include:
Tutorials and lesson plans on Scratch Pong, games design, and the database-building Python library, SQLite3
Supporting learning with online video
The potential of open-source resources in education
A bluffer's guide to Non-Examination Assessments (NEA) for GCSE Computer Science
A look at play and creativity in programming
Get your copy of Hello World 3
Hello World is available as a free Creative Commons download for anyone around the world who is interested in Computer Science and digital making education. Grab the latest issue straight from the Hello World website.
Thanks to the very generous support of our sponsors BT, we are able to offer free printed versions of the magazine to serving educators in the UK. It's for teachers, Code Club volunteers, teaching assistants, teacher trainers, and others who help children and young people learn about computing and digital making. Remember to subscribe to receive your free copy, posted directly to your home.
Free book!
As a special bonus for our print subscribers, this issue comes bundled with a copy of Ian Livingstone and Shahneila Saeed's new book, Hacking the Curriculum: Creative Computing and the Power of Play. 
The book explains the critical importance of coding and computing in modern schools, and offers teachers and school leaders practical guidance on how to improve their computing provision. Thanks to Ian Livingstone, Shahneila Saeed, and John Catt Educational Ltd. for helping to make this possible. The book will be available with issue 3 to new subscribers while stocks last.
10,000 subscribers
We are very excited to announce that Hello World now has more than 10,000 subscribers!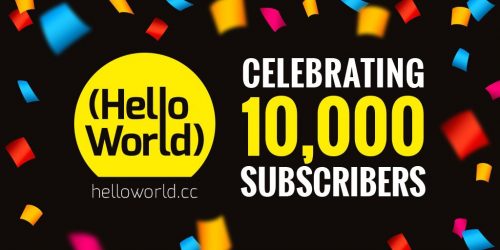 We're celebrating this milestone, but we'd love to reach even more computing and digital making educators. Help us to spread the word to teachers, volunteers and home educators in the UK.
Get involved
Share your teaching experiences in computing and related subjects with Hello World, and help us to help other educators! When you air your questions and challenges on our letters page, other educators are ready to help you. Drop us an email to submit letters, articles, lesson plans, and questions for our FAQ pages – wherever you are in the world, get in touch with us by emailing contact@helloworld.cc.