On Monday 29 February, we celebrated the fourth (or first) birthday of the Raspberry Pi computer by giving a little gift to the community in the form of the Raspberry Pi 3.  A lot more power, with built in wireless LAN and Bluetooth, for the same great price of $35.
On 5 and 6 March, the community paid us back and then some.  Well over 1500 people of all ages gathered at the Cambridge Computer Lab for our Big Birthday Weekend.  An amazing festival of digital making and creativity, showcasing the very best that our community has to offer. For us at the Foundation, it was the best birthday present we could have hoped for.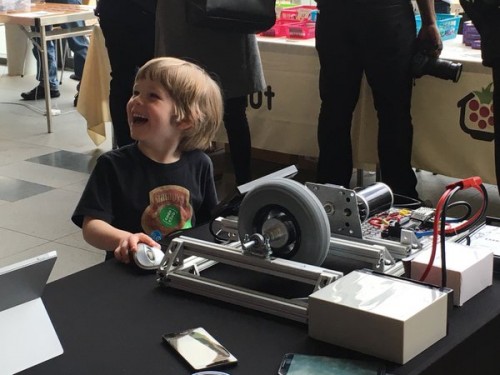 Here are some of my personal highlights.
Across the two days, there were 47 talks from community members and Foundation staff showcasing projects, sharing experiences of using Raspberry Pi in education, talking about Code Clubs, introducing new software developments, and exploring some of the big issues like getting more women and girls involved in digital making.  The lecture theatres were packed all weekend.
I was particularly pleased to see so many great contributions from young community members, like European Digital Girl of the Year Yasmin Bey's powerful talk on Sunday morning about encouraging more girls into tech.
It was great for me to be able to give a talk on what we've been up to in the Foundation and get some feedback on our strategy from the community. Thank you to everyone who came along to that session.
We were also treated to both (accidental) pyrotechnics and (deliberate) magic.  All of the talks were recorded and will be available online in the next few days, so don't worry if you missed them.
One of the talks at the Raspberry Pi Birthday Party weekend was one given by Andy Barker. He demonstrated "Zoe", a Raspberry Pi powered quadcopter. His talk went well but the highlight was test run three. This is where "Zoe" drifted to one side, attacked Andy and then burst into flames.
There were 28 workshops where kids and adults had the chance to get hands-on with Raspberry Pi, have a go at hacking Minecraft, make music with Sonic Pi, and learn how to make projects with Scratch. Again, the vast majority of these were led by volunteers from the community, including several that were led by young people.
One of my personal highlights was the workshop that brought together Raspberry Jam Makers from all over the world, to share experiences and explore how we could work together to grow the community even further.

The show and tell zone was packed full of ingenious projects that members of the community had built for the sheer joy of it. Like most people, I got lost for hours among the games, robots, demos, and inventions.
Loved watching the little girls everywhere at the @Raspberry_Pi #PiParty pic.twitter.com/rx7PK6i9F5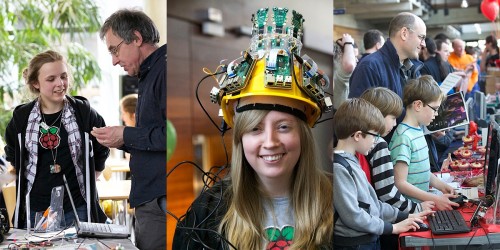 I'll also confess to a little competitiveness trying to defeat the AI Connect 4, a contest which sadly ended in an honourable draw. I know how Lee Sedol must be feeling after his first couple of games of Go against DeepMind.
A Raspberry Pi powered robotic arm that plays Connect 4
The marketplace brought together lots of the best makers and distributors in the ecosystem.  Pimoroni, The Pi Hut, ModMyPi, pi-top, and many, many more were on hand.  They're such an important part of the community and it was great to catch up with them and play with some of the new toys they have on offer.
Special thanks to our friends pi-top who presented Eben, Liz and David (our esteemed chairman) with a fourth birthday edition of their wonderful Raspberry Pi-powered laptop.
No Description
Saturday night ended with a massive party involving 110 pizzas, a huge quantity of cake, gallons of soft drinks, 2.5 barrels of beer brewed using a Raspberry Pi, and one barrel of Raspberry Blush cider.
Happy 4th Birthday @Raspberry_Pi #PiParty @EbenUpton @Liz_Upton pic.twitter.com/n3VBSoFLhB
We were also treated to a live coding music performance by the wonderful Sam Aaron, creator of Sonic Pi, with his band Poly Core.
The superb @samaaron jamming live @Sonic_Pi at the @Raspberry_Pi #PiParty – with backing band!! pic.twitter.com/QZJhsZ7CIn
Perhaps the best thing about the Big Birthday Party was that it was a community effort.
Enormous thanks go to Mike Horne and Tim Richardson, the organisers of Cam Jam, who once again gave huge amounts of their time to make it all happen.
We're also hugely grateful to the Cambridge Computer Lab who very generously gave us the use of their fantastic building.  Thanks, too, to Microsoft and Real VNC, who sponsored the event and provided fantastic interactive demos. Thanks to Ben at Fuzzy Duck brewery for the Irrational Ale.
One of the stand-out contributions over the weekend was from our growing community of young people, including the self-styled but appropriately named "Pi Squad", and our very own Creative Technologists. They are such a talented bunch of people, and it's great to see them already taking leadership positions in the community.
"The Pi Squad at #PiParty"
The Foundation team was also out in strength across the weekend, giving talks, running workshops, signing up volunteers for Code Club, and generally helping out wherever we could.
Our own Dave Honess deserves a special mention for spending all of Sunday in a space suit to promote our new Astro Pi competition. As another colleague (Matt Richardson) said, "dress for the job you want, not the job you have".
We might all be exhausted, but we're already looking forward to next year.