Bringing Digital Making to the Bett Show 2017
The Cambridge office must have been very quiet last week, as staff from across the Raspberry Pi Foundation exhibited at the Bett Show 2017. Avid readers will note that at the UK's largest educational technology event, held in London across four days, we tend to go all out. This year was no exception, as we had lots to share with you!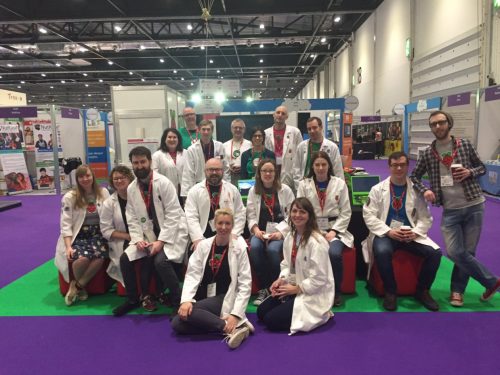 Hello World
It was hugely exciting to help launch Hello World, our latest joint publication with Computing At School (CAS), part of BCS, the Chartered Institute for IT, and sponsored by BT. I joined our CEO Philip Colligan, contributing editor Miles Berry, and Raspberry Pi Certified Educator Ian Simpson on stage in the Bett arena to share our thoughts on computing curriculums around the world, and the importance of sharing good teaching.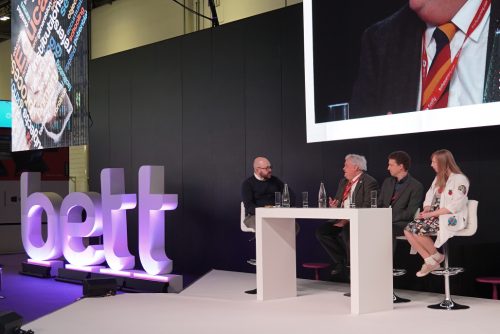 In our area of the STEAM village, where we had four pods and a workshop space, the team handed copies out in their thousands to eager educators interested in digital making, computing, and computer science. If you weren't able to get your hands on a copy, don't worry; you can download a free digital PDF and educators can subscribe to get this year's three issues delivered, completely free of charge, to their door.
Sharing the Code Club love
Thanks to the support of some enthusiastic young people and our Code Club regional coordinators, we ran our first ever Code Club at Bett on Saturday.
Massive thanks to @TheChallenge_UK @CodeClub volunteers for helping @Raspberry_Pi out at #Bett2017 today :) pic.twitter.com/QicnTD4IPj

— CodeClubLondon (@codeclublondon) January 28, 2017
There was a great turnout of educators and their children, who all took part in a programming activity, learning just what makes Code Club so special. With activities like this, you can see why there are 5,000 clubs in the UK and 4,000 in the rest of the world!
Here's @ben_nuttall enjoying our @CodeClub keepy uppy game… pic.twitter.com/bmUAvyjndT

— Code Club South East (@codeclubse) January 25, 2017
Free stuff
Let's be honest: exhibitions and conferences are all about the free swag. (I walked away with a hoodie, polo shirt, and three highlighter pens.) We think we had the best offering: free magazines and classroom posters!
It's our the final day of #Bett2017! Pop over to STEAM village to see the Code Club team & get your hands on our coveted posters! #PiAtBett pic.twitter.com/aSBN1GmZyV

— Code Club UK (@CodeClub) January 28, 2017
We love interacting with people and we're passionate about making things, so we helped attendees make their very own LED badge that they could keep. It was so popular that after it has had a few tweaks, we'll will make it available for you to download and use in class, after-school clubs, and Raspberry Jams!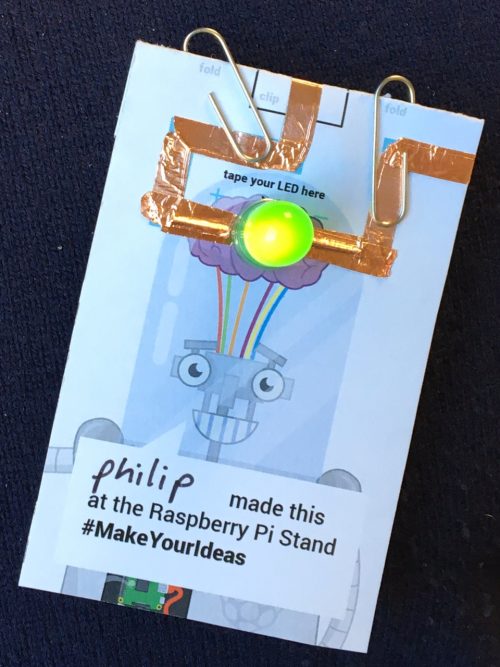 The 'All Seeing Pi' kept an eye on attendees passing by that we may have missed, using comedy moustaches to lure them in. We've enjoyed checking out its Twitter account to see the results.
Speaking from the heart
The STEAM village was crammed with people enjoying all our activities, but that's not all; we even found time to support our educator community to give talks about their classroom practice on stage. One of the highlights was seeing three of our Certified Educators, along with their class robots, sharing their journey and experience on a panel chaired by Robot Wars judge and our good friend, Dr Lucy Rogers.
Once we started talking about our work, we found it difficult to stop. The team gave talks about Pioneers, our new programme for 12- to 15-year-olds, our digital making curriculum, and Astro Pi.
Well done @Raspberry_Pi for such a good turn out yesterday! Keep up the good work at your stand in STEAM Village. pic.twitter.com/5UDPgzyBW7

— Bett UK (@Bett_show) January 27, 2017
A royal visit
We were excited to be visited by a very special attendee, our patron the Duke of York, who spent time meeting the team, learned more about our programmes, and discussed teacher training with me.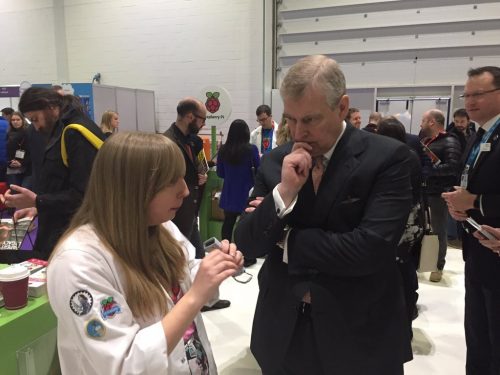 Team Awesome
Thanks to everyone who visited, supported, and got involved with us. We ran 43 workshops and talks on our stand, handed out 2,000 free copies of Hello World and 400 Code Club posters, caught 100 comedy faces with the All-Seeing Pi, gave 5 presentations on Bett stages, took 5,000 pictures on our balloon cam, and ran 1 Code Club and 1 Raspberry Jam, across 4 days at the Bett show.