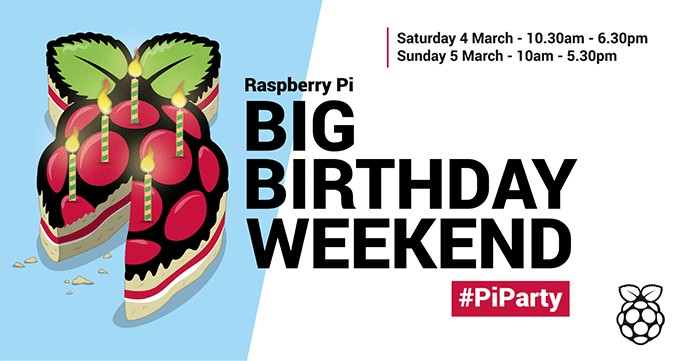 Raspberry Pi Big Birthday Weekend
Cambridge Junction, Clifton Way, Cambridge, CB1 7GX
Saturday 4th March 2017 10.30am-6.30pm
Sunday 5th March 10am-5.30pm
Tickets: £5 (16 years and over), free (under 16)
Ticket purchase available here: junction.co.uk/raspberry-pi-big-birthday-weekend
Click below for schedule and register for workshops by clicking the links!: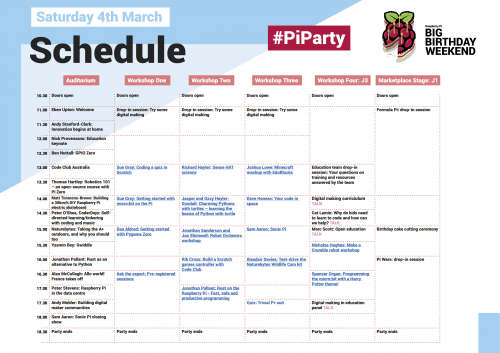 Welcome to our annual birthday celebration page!
Join the Raspberry Pi Foundation team and a host of volunteers from our community as we celebrate another exciting year of putting the power of digital making into the hands of people all over the world.
Raspberry Pi and Code Club will be both turning five, and we'd love for you to come and see what Raspberry Pi is all about, try some of our Code Club projects, and learn what we're doing to support educators teaching computer science.
We'll have talks and workshops covering multiple subjects and interests, show and tell stands showcasing incredible creations, vendors exhibiting their kits in the Maker Market, and even goody bags and cupcakes throughout the weekend, with content suitable for everyone whatever their age or experience.
We are also holding an Educators' Celebration for teachers and other educators of young people. Does your digital making brain need an MOT? Educators can sign up for talks, hands-on workshops, and other opportunities to share classroom ideas, pedagogy, and practice. If you're an interested educator, buy a ticket as normal and we'll be in touch soon with more details on how you can participate and contribute.
The full programme will be available in soon, including a link to sign up to workshops which are registration-only. In the meantime, if you haven't been to a Raspberry Pi party before, check out the blog from last year: raspberrypi.org/blog/what-a-party/.
Venue
This time we're excited to announce the celebration will be held at Cambridge Junction.
Less than ten minutes' walk from Cambridge train station, Cambridge Junction offers three large areas for a variety of activities, plus ample parking in the multi-storey car park next door. Three food trucks will be available on site. However, should you wish to have a wander at lunchtime, there are other options directly outside including Sainsbury's, Subway, and Nando's. For those travelling a long way, a Travelodge is next door.
Keep an eye on this page in the New Year for updates including the full programme and workshop sign-up information. We hope you can make it!
Our call for submissions of content is now closed. If you have offered to lead a talk or workshop, or even just help out, and we'll be in touch.