Hello World – a new magazine for educators
Today, the Raspberry Pi Foundation is launching a new, free resource for educators.
Hello World is a magazine about computing and digital making written by educators, for educators. With three issues each year, it contains 100 pages filled with news, features, teaching resources, reviews, research and much more.
It is designed to be cross-curricular and useful to all kinds of educators, from classroom teachers to librarians.  While it includes lots of great examples of how educators are using Raspberry Pi computers in education, it is device- and platform-neutral.
Community building
As with everything we do at the Raspberry Pi Foundation, Hello World is about community building. Our goal is to provide a resource that will help educators connect, share great practice, and learn from each other.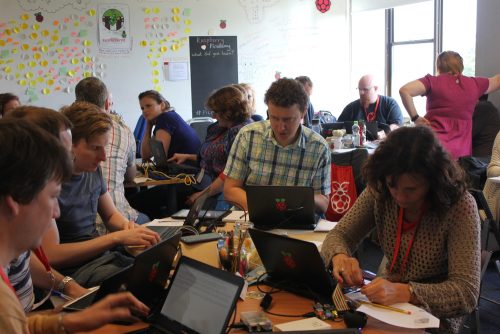 Hello World is a collaboration between the Raspberry Pi Foundation and Computing at School, the grass-roots organisation of computing teachers that's part of the British Computing Society. The magazine builds on the fantastic legacy of Switched On, which it replaces as the official magazine for the Computing at School community.
We're thrilled that many of the contributors to Switched On have agreed to continue writing for Hello World. They're joined by educators and researchers from across the globe, as well as the team behind the amazing MagPi, the official Raspberry Pi magazine, who are producing Hello World.
print ("Hello, World!")
Hello World is available free, forever, for everyone online as a downloadable pdf.  The content is written to be internationally relevant, and includes features on the most interesting developments and best practices from around the world.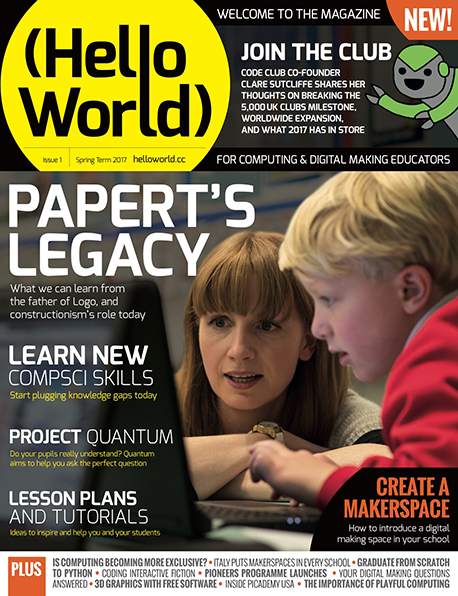 Thanks to the very generous support of our sponsors BT, we are also offering the magazine in a beautiful print version, delivered for free to the homes of serving educators in the UK.
Papert's legacy 
This first issue is dedicated to Seymour Papert, in many ways the godfather of computing education. Papert was the creator of the Logo programming language and the author of some of the most important research on the role of computers in education. It will come at no surprise that his legacy has a big influence on our work at the Raspberry Pi Foundation, not least because one of our co-founders, Jack Lang, did a summer internship with Papert.
Inside you'll find articles exploring Papert's influence on how we think about learning, on the rise of the maker movement, and on the software that is used to teach computing today from Scratch to Greenfoot.
Get involved
We will publish three issues of Hello World a year, timed to coincide with the start of the school terms here in the UK. We'd love to hear your feedback on this first issue, and please let us know what you'd like to see covered in future issues too.
The magazine is by educators, for educators. So if you have experience, insights or practical examples that you can share, get in touch: contact@helloworld.cc.