What do you want your button to do?
Here at Raspberry Pi, we know that getting physical with computing is often a catalyst for creativity. Building a simple circuit can open up a world of making possibilities! This ethos of tinkering and invention is also being used in the classroom to inspire a whole new generation of makers too, and here is why.
The all-important question
Physical computing provides a great opportunity for creative expression: the button press! By explaining how a button works, how to build one with a breadboard attached to computer, and how to program the button to work when it's pressed, you can give learners young and old all the conceptual skills they need to build a thing that does something. But what do they want their button to do? Have you ever asked your students or children at home? I promise it will be one of the most mindblowing experiences you'll have if you do.
Amy will want her button to take a photo, Charlie will want his button to play a sound, Tumi will want her button to explode TNT in Minecraft, Jack will want their button to fire confetti out of a cannon, and James Robinson will want his to trigger silly noises (doesn't he always?)! Idea generation is the inherent gift that every child has in abundance. As educators and parents, we're always looking to deeply engage our young people in the subject matter we're teaching, and they are never more engaged than when they have an idea and want to implement it. Way back in 2012, I wanted my button to print geeky sayings:
What are the challenges for this approach in education?
Allowing this kind of free-form creativity and tinkering in the classroom obviously has its challenges for teachers, especially those confined to rigid lesson structures, timings, and small classrooms. The most common worry I hear from teachers is "what if they ask a question I can't answer?" Encouraging this sort of creative thinking makes that almost an inevitability. How can you facilitate roughly 30 different projects simultaneously? The answer is by using those other computational and transferable thinking skills:
Problem-solving
Iteration
Collaboration
Evaluation
Clearly specifying a problem, surveying the tools available to solve it (including online references and external advice), and then applying them to solve the problem is a hugely important skill, and this is a great opportunity to teach it.
Hands-off guidance
When we train teachers at Picademy, we group attendees around themes that have come out of the idea generation session. Together they collaborate on an achievable shared goal. One will often sketch something on a whiteboard, decomposing the problem into smaller parts; then the group will divide up the tasks. Each will look online or in books for tutorials to help them with their step. I've seen this behaviour in student groups too, and it's very easy to facilitate. You don't need to be the resident expert on every project that students want to work on.
The key is knowing where to guide students to find the answers they need. Curating online videos, blogs, tutorials, and articles in advance gives you the freedom and confidence to concentrate on what matters: the learning. We have a number of physical computing projects that use buttons, linked to our curriculum for learners to combine inputs and outputs to solve a problem. The WhooPi cushion and GPIO music box are two of my favourites.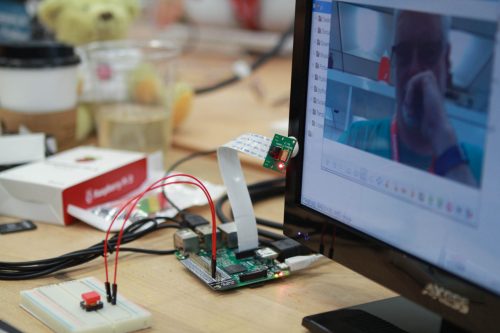 Outside of formal education, events such as Raspberry Jams, CoderDojos, CAS Hubs, and hackathons are ideal venues for seeking and receiving support and advice.
Cross-curricular participation
The rise of the global maker movement, I think, is in response to abstract concepts and disciplines. Children are taught lots of concepts in isolation that aren't always relevant to their lives or immediate environment. Digital making provides a unique and exciting way of bridging different subject areas, allowing for cross-curricular participation. I'm not suggesting that educators should throw away all their schemes of work and leave the full direction of the computing curriculum to students. However, there's huge value in exposing learners to the possibilities for creativity in computing. Creative freedom and expression guide learning, better preparing young people for the workplace of tomorrow.
So…what do you want your button to do?
Hello World
Learn more about today's subject, and read further articles regarding computer science in education, in Hello World magazine issue 1.
UK-based educators can subscribe to Hello World to receive a hard copy delivered for free to their doorstep, while the PDF is available for free to everyone via the Hello World website.