Prepare to run a Code Club on FutureLearn
Prepare to run a Code Club with our newest free online course, available now on FutureLearn!
Code Club
As of today, more than 10000 Code Clubs run in 130 countries, delivering free coding opportunities to approximately 150000 children across the globe.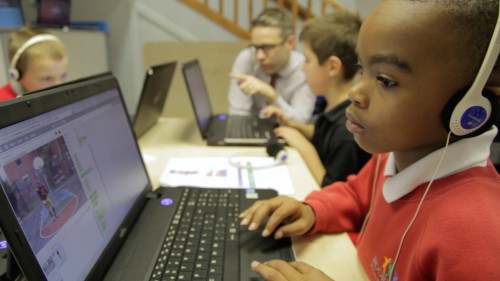 As an organisation, Code Club provides free learning resources and training materials to supports the ever-growing and truly inspiring community of volunteers and educators who set up and run Code Clubs.
FutureLearn
Today we're launching our latest free online course on FutureLearn, dedicated to training and supporting new Code Club volunteers. It will give you practical guidance on all things Code Club, as well as a taste of beginner programming!
Split over three weeks and running for 3–4 hours in total, the course provides hands-on advice and tips on everything you need to know to run a successful, fun, and educational club.
"Week 1 kicks off with advice on how to prepare to start a Code Club, for example which hardware and software are needed. Week 2 focusses on how to deliver Code Club sessions, with practical tips on helping young people learn and an easy taster coding project to try out. In the final week, the course looks at interesting ideas to enrich and extend club sessions."
— Sarah Sherman-Chase, Code Club Participation Manager
The course is available wherever you live, and it is completely free — sign up now!
If you're already a volunteer, the course will be a great refresher, and a chance to share your insights with newcomers. Moreover, it is also useful for parents and guardians who wish to learn more about Code Club.
Your next step
Interested in learning more? You can start the course today by visiting FutureLearn. And to find out more about Code Clubs in your country, visit Code Club UK or Code Club International.
We love hearing your Code Club stories! If you're a volunteer, are in the process of setting up a club, or are inspired to learn more, share your story in the comments below or via social media, making sure to tag @CodeClub and @CodeClubWorld.
You might also be interested in our other free courses on the FutureLearn platform, including Teaching Physical Computing with Raspberry Pi and Python and Teaching Programming in Primary Schools.