Building community with our Global Clubs Partners
As part of our mission to enable young people to realise their full potential through the power of computing and digital technologies, we work in partnership with organisations around the globe to grow and sustain the Code Club and CoderDojo networks of coding clubs for young people. These organisations are our Global Clubs Partners, and they undertake activities including training educators and volunteers, providing access to equipment, and running clubs and events for young people at a local or national level.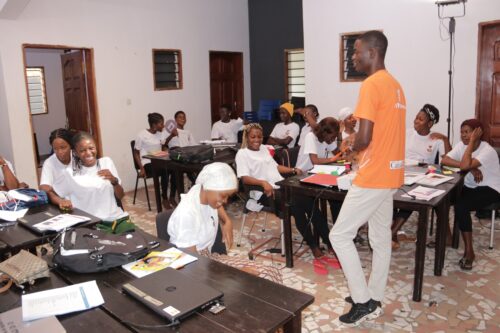 Meeting in the middle
Given that many people at the Raspberry Pi Foundation are based in the UK and Ireland, and that meeting in person has been restricted during the coronavirus pandemic, our work to connect with the Global Clubs Partner network has largely taken place via video calls these last years. We don't only connect with partners one to one, we also link them to each other so they can share insights, approaches, and resources. Video calls offer a unique opportunity for bringing together partner organisations located all over the world, but they provide a very different experience to building community in person.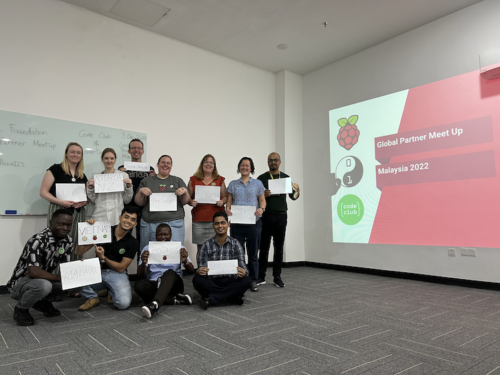 With a network of 41 organisations in 35 countries, meeting in person requires careful consideration so we can accommodate as many partners as possible. That's why we decided to hold several regional meetups in 2022 to make it feasible for all partners to join at least one. In October, a meetup took place in the Netherlands, coinciding with DojoCon Netherlands run by local partners. Our most recent meetup happened in early December, the day before the Coolest Projects Malaysia 2022 event, in Penang on the west coast of Malaysia.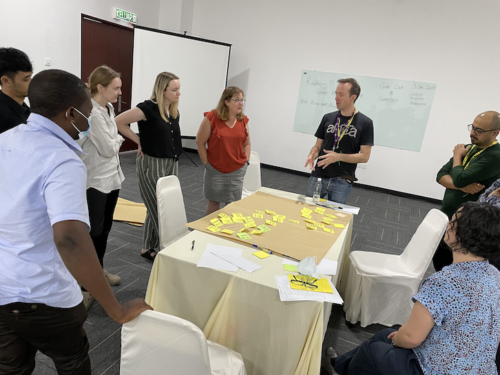 At the December meetup, we welcomed participants from 10 partner organisations across Asia, Oceania, and Africa. This group spent a whole day building connections and sharing their work with each other. Together we covered several areas of interest, including volunteer recruitment, training, and recognition — all crucial topics for organisations that rely on volunteers to support young people. Meet-up participants shared resources, discussed how to sustainably grow networks, and planned for the future. The next day, participants had the chance to visit Coolest Projects Malaysia to find even more inspiration while seeing local young people showcase their own tech creations.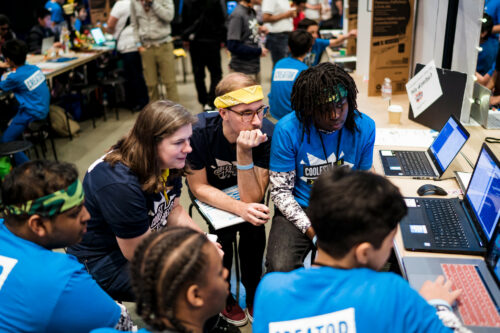 Although it was only one day, the impact of the meetup has been clear. As we had hoped it would, feedback from the partner organisations was very positive and revolved around community and learning, with participants expressing "feeling better connected" and "interconnectedness", as well as "learning a lot" and "sharing best practices". One participant even volunteered to host a future meetup, saying "Next year I would like to run this in my country."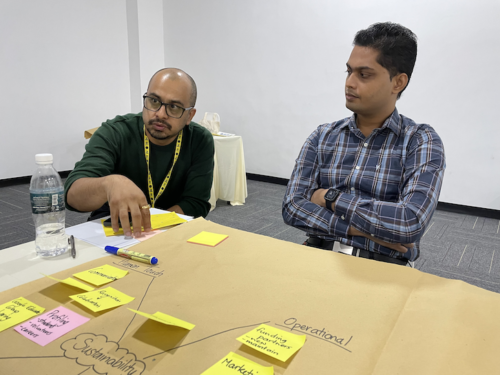 Here at the Foundation, we very much share these sentiments. Ellie Proffitt, Code Club Global Partnerships Manager, said: "It was great to see our partners sharing how they support their clubs with each other and bouncing new ideas around. I think we all left feeling very inspired."
Looking to the future
After the success of these in-person meetups in 2022, we and our Global Clubs Partner network are looking forward to future opportunities to work together. Planning for 2023 is of course well underway, with creative, ambitious projects and new partnerships in the pipeline. We all feel renewed in our commitment to our work and mission, and excited for what's on the horizon. In the words of Sonja Bienert, Senior Community Manager: "Through this collaboration, we've reached a new level of trust that will positively influence our work for a long time to come."
You can find out more about joining our Global Clubs Partner network on the CoderDojo and Code Club websites, or contact us directly with your questions or ideas about a partnership.