Training teachers and empowering students in Machakos, Kenya
Over the past months, we've been working with two partner organisations, Team4Tech and Kenya Connect, to support computing education across the rural county of Machakos, Kenya.
Working in rural Kenya
In line with our 2025 strategy, we have started work to improve computing education for young people in Kenya and South Africa. We are especially eager to support communities that experience educational disadvantage. One of our projects in this area is in partnership with Team4Tech and Kenya Connect. Together we have set up the Dr Isaac Minae EdTech Hub in the community Kenya Connect supports in the rural county of Machakos, and we are training teachers so they can equip their learners with coding and physical computing skills.
"Watching teachers and students find joy and excitement in learning has been tremendous! The Raspberry Pi Foundation's hands-on approach is helping learners make connections through seeing how technology can be used for innovation to solve problems. We are excited to be partnering with Raspberry Pi Foundation and Team4Tech in bringing technology to our rural community."

– Sharon Runge, Executive Director, Kenya Connect
We are providing the Wamunyu community with the hardware and the skills and knowledge training they need to use digital technology to create solutions to problems they see. The training will make sure that teachers across Machakos can sustain the EdTech Hub and computing education activities independently. This is important because we want the community to be empowered to solve problems that matter to them and for all the local young people to have opportunities that are open to their peers in Nairobi, Kisumu, Mombasa, and other cities in Kenya.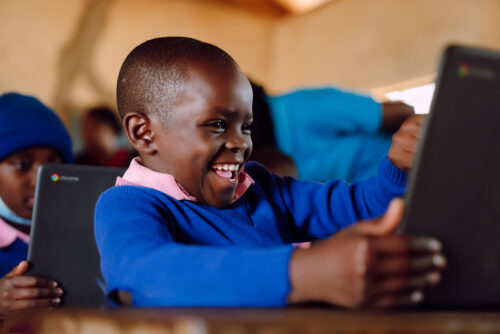 Launching the Dr Isaac Minae EdTech Hub in Wamunyu
In October this year, we travelled to Wamunyu to help Kenya Connect set up and launch the Dr Isaac Minae EdTech Hub, for which we provided hardware including Raspberry Pi 400 computers and physical computing kits with Raspberry Pi Pico microcontrollers, LEDs, buzzers, buttons, motors and more. We also held a teacher training session to start setting up the local educators with the skills and knowledge they need to teach coding and physical computing. In the training, educators brought a range of experiences with using computers. Some were unfamiliar with computer hardware, but at the end of the training session, they all had designed and created physical computing projects using electronic circuits and code. It was hugely inspiring to work with these teachers and see their enthusiasm and commitment to learning.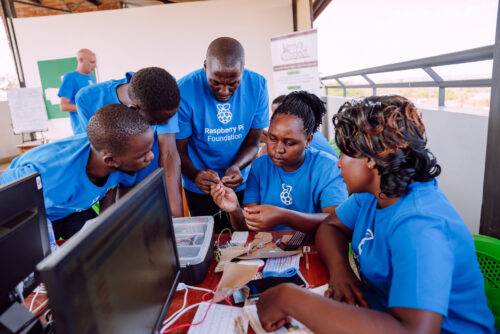 Through our two-year partnership with Kenya Connect, we aim to reach at least 1000 learners between the ages of 9 to 14 from 62 schools in Machakos county. We will work with at least 150 teachers to build their knowledge, skills, and confidence to teach coding, digital making, and robotics, and to run after-school Code Clubs. We'll help teachers offer learning experiences based on our established learning paths to their students, and these experiences will include basic coding skills aligned to Kenya's Competency Based Curriculum (CBC). We are putting particular focus on adapting our learning content so that teachers in Machakos can offer culturally relevant educational activities in their community.
"Our partnership with the Raspberry Pi Foundation will open up new avenues for teachers to learn coding and physical computing. This is in line with the current Competency Based Curriculum that requires students to start learning coding at an early age. Though coding is entrenched in the curriculum, teachers are ill-prepared and schools lack devices. We are so grateful to the Raspberry Pi Foundation for providing teachers and students access to devices and the Raspberry Pi learning paths."

– Patrick Munguti, Director of Education and Technology, Kenya Connect
Looking to the future
Next up for our work on this project is to continue supporting Kenya Connect to scale the program in the county.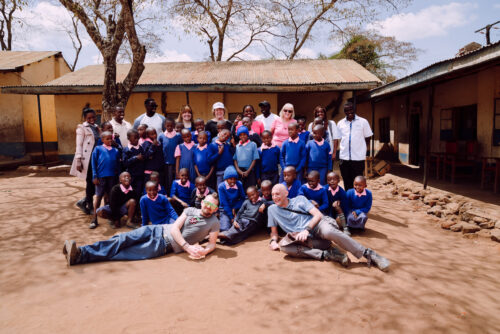 In all our work in southern Africa, we are committed to strengthening and growing our partnerships with locally led youth and community organisations, the private sector, and the public sector, in line with our mission to open up more opportunities for young people to realise their full potential through the power of computing and digital technologies.
Our work in southern Africa is generously funded by the Ezrah Charitable Trust.