Pioneers Summer Camp 2017
In July, winners of the first two Pioneers challenges came together at Google HQ at Kings Cross in London for the Pioneers Summer Camp. This event was a special day to celebrate their awesomeness, and to give them access to some really cool stuff.
The lucky Pioneers
The summer camp was organised specifically for the winners of the two Pioneers challenges Make us laugh and Make it outdoors. Invitations went out to every team that won an award, including the Theme winners, winners in categories such as Best Explanation or Inspiring Journey, and those teams that received a Judges' Recognition. We also allowed their mentors to attend, because they earned it too.
Excited about @Raspberry_Pi Pioneers day at @Google today with @jm_paterson and The Frontier Team #makeyourideas https://t.co/wZqfqqgZuL

— Code Club Scotland (@codeclubscot) July 28, 2017
With teams of excited Pioneers arriving from all over the UK, the day was bound to be a great success and a fun experience for all.
The Pioneers Summer Camp
The event took place at the rather impressive Google HQ in King's Cross, London. Given that YouTube Space London is attached to this building, everyone, including the mentors and the Raspberry Pi team, was immediately eager to explore.
In rooms designed around David-Bowie-associated themes, e.g. Major Tom and Aladdin Sane, our intrepid Pioneers spent the morning building robots and using the Google AIY Projects kit to control their builds. Every attendee got to keep their robot and AIY kits, to be able to continue their tech experiments at home. They also each received their own Raspberry Pi, as well as some Google goodies and a one-of-a-kind Raspberry Pi hoody…much to the jealousy of many of our Twitter followers.
Meanwhile, mentors were invited to play with their own AIY kits, and the team from pi-top took accompanying parents aside to introduce them to the world of Scratch. This in itself was wonderful to witness: nervous parents started the day anxiously prodding at their pi-top screens, and they ended it with a new understanding of why code and digital making makes their kids tick.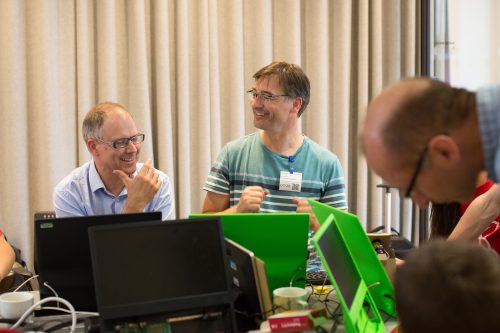 After the making funtimes, the Pioneers got to learn about career opportunities within the field of digital making from some of the best in the industry. Representatives from Google, YouTube, and the Shell Scholarship Fund offered insights into their day-to-day work and some of their teams' cool projects.
And to top off the day, our Pioneers winners went on a tour of the YouTube studios, a space to which only YouTube Creators have access. Lucky bunch!
The evening
When the evening rolled around, Pioneers got to work setting up their winning projects. From singing potatoes to sun-powered instruments and builds for plant maintenance, the array of ideas and creations showcased the incredible imagination these young makers have displayed throughout the first two seasons of Pioneers.
As well as a time for showing off winning makes, the evening was also an opportunity for Pioneers, mentors, and parents to mingle, chat, swap Twitter usernames, and get to know others as interested in making and changing the world as they are.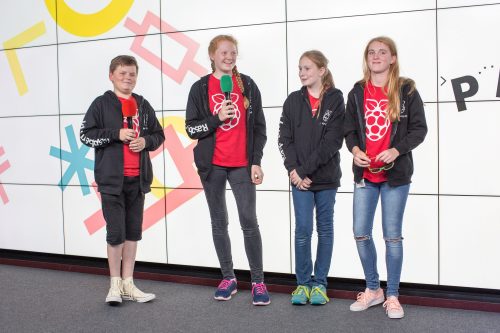 The Pioneers Summer Camp came to a close with a great Q&A by some eager Pioneers, followed by praise from Raspberry Pi Foundation CEO Philip Colligan, Mike Warriner of Google UK, and Make it outdoors judge Georgina Asmah from the Shell Centenary Scholarship Fund.
Become a Pioneer
We'll be announcing the next Pioneers challenge on Monday 18 September, and we're so excited to see what our makers do with the next theme. We've put a lot of brain power into coming up with the ultimate challenge, and it's taking everything we have not to let it slip!
One thing we can tell you: this season of Pioneers will include makers from the Republic of Ireland, thanks in part to the incredible support from our team at CoderDojo. Woohoo!
We'll announce the challenge via the Raspberry Pi blog, but make sure to sign up for the Pioneers newsletter to get all the latest information directly to your inbox.