Make your own game with CoderDojo's new book
The first official CoderDojo book, CoderDojo Nano: Build Your Own Website, was a resounding success: thousands of copies have been bought by aspiring CoderDojo Ninjas, and it's available in ten languages, including Bulgarian, Czech, Dutch, Lithuanian, Latvian, Portuguese, Spanish, and Slovakian. Now we are delighted to announce the release of the second book in our Create with Code trilogy, titled CoderDojo Nano: Make Your Own Game.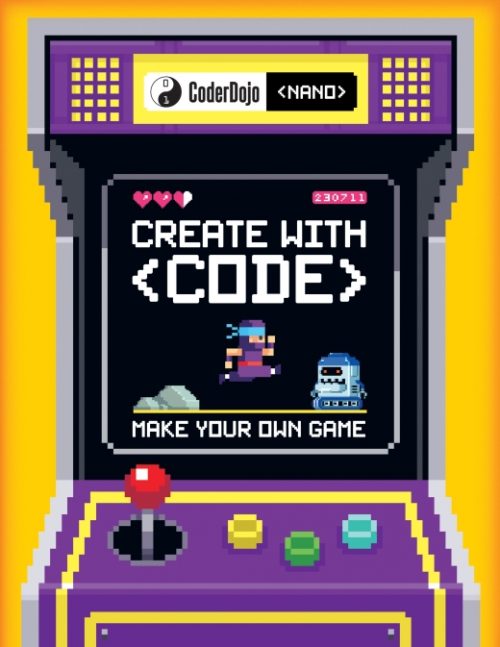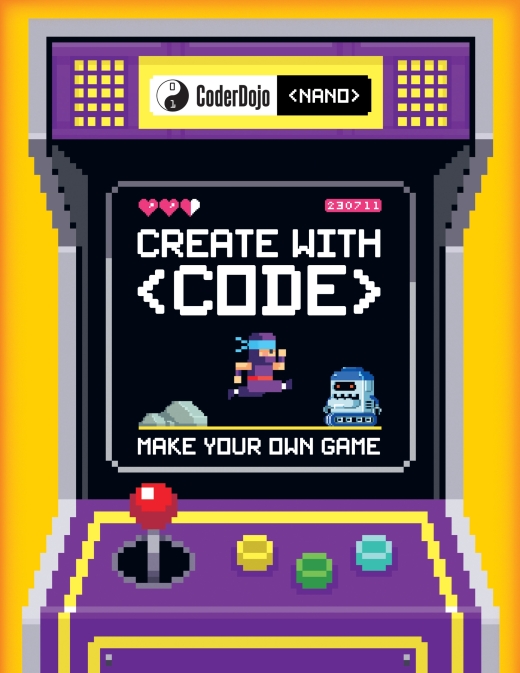 The paperback book will be available in English from Thursday 7 September (with English flexibound and Dutch versions scheduled to follow in the coming months), enabling young people and adults to learn creative and fun coding skills!
What will you learn?
The new book explains the fundamentals of the JavaScript language in a clear, logical way while supporting you to create your very own computer game.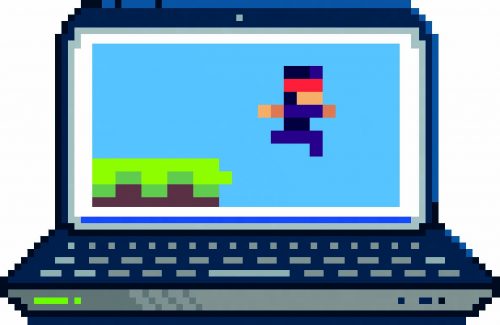 You will learn how to animate characters, create a world for your game, and use the physics of movement within it. The book is full of clear step-by-step instructions and illustrated screenshots to make reviewing your code easy. Additionally, challenges and open-ended prompts at the end of each section will encourage you to get creative while making your game.
This book is the perfect first step towards understanding game development, particularly for those of you who do not (yet) have a local Dojo. Regardless of where you live, using our books you too can learn to 'Create with Code'!
Tried and tested
As always, CoderDojo Ninjas from all around the world tested our book, and their reactions have been hugely positive. Here is a selection of their thoughts:
"The book is brilliant. The [game] is simple yet innovative. I personally love it, and want to get stuck in making it right away!"
"What I really like is that, unlike most books on coding, this one properly explains what's happening, and what each piece of code does and where it comes from."
"I found the book most enjoyable. The layout is great, with lots of colour, and I found the information very easy to follow. The Ninja Tips are a great help in case you get a bit stuck. I liked that the book represents a mix of boy and girl Ninjas — it really makes coding fun for all."
"The book is a great guide for both beginners and people who want to do something creative with their knowledge of code. Even people who cannot go to a CoderDojo can learn code using this book!"
Writer Jurie Horneman
Author of CoderDojo Nano: Make Your Own Game Jurie Horneman has been working in the game development industry for more than 15 years.
He shares how he got into coding, and what he has learnt while creating this awesome book:
"I've been designing and programming games since 1991, starting with ancient home computers, and now I'm working with PCs and consoles. As a game designer, it's my job to teach players the rules of the game in a fun and playful manner — that gave me some useful experience for writing the book.

I believe that, if you want to understand something properly, you have to teach it to others. Therefore, writing this book was very educational for me, as I hope reading it will be for learners."
Asked what his favorite thing about the book is, Jurie said he loves the incredible pixel art design: "The artist (Gary J Lucken, Army of Trolls) did a great job to help explain some of the abstract concepts in the book."
How can you get your copy?
You can pre-order CoderDojo Nano: Make Your Own Game here. Its initial pricing is £9.99 (around €11), and discounted copies with free international delivery are available here.