Attend a Picademy@Google in Birmingham
This year we've seen an explosion of Raspberry Pi Certified Educators thanks to the number of free teacher training events called 'Picademy' that we've been able to facilitate. Aside from our own in-house training, there have been five regional Picademies, three of which have taken place in Google's Digital Garage in Leeds. Thanks to the generosity of Google.org, we are able to offer even more continuing professional development opportunities to educators, this time in Birmingham!
Picademy@Google is for classroom teachers of any subject at primary, secondary or post-16 level. The courses and workshops in Leeds are run by renowned community member Les Pounder, who gives much of his time to helping adults and children create weird and wonderful projects. You may have seen some of his Picademy work on Twitter recently.
Wilma and I were happy with our simple creations using Pi. Big thanks to lovely @biglesp for his support #picademy pic.twitter.com/a9n9F4Rff1

— Yasemin Allsop (@yallsop) July 14, 2015
Picademy@Google Birmingham will be every bit as good! Highly regarded community member, Minecraft wizard, and creator of stuff about code Martin O'Hanlon will be leading teachers across a diamond block path to Raspberry Pi enlightenment. Here he is doing his best Steve impression: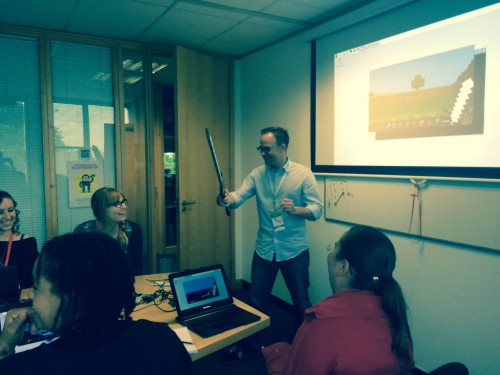 Martin was at the venue for the launch and said:
The opening of the Google Digital Garage at the Library of Birmingham was a great event attended by Eileen Naughton, MD of Google UK and Ireland, and Sajid Javid, Secretary of State for Business, Innovation and Skills.

The venue is incredible and it's really exciting to be able to use this amazing space to bring Picademy to Birmingham – opening up the opportunity to teachers across the West Midlands to get the benefit of the Raspberry Pi Foundation's free CPD course.
All our training events in Birmingham will take place at the latest Google Digital Garage inside Birmingham Library, and are completely free to attend. If you are interested in take part and becoming a Raspberry Pi Certified Educator, please complete this form. The following dates are available:
27th – 28th August
1st – 2nd October
2nd – 3rd November
7th – 8th December