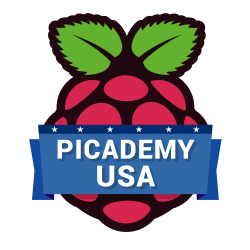 I'm often asked when Picademy, our teacher professional development program, is coming to the United States. It's been an incredible success within the UK and there's clearly huge demand for it within the US. Today, we're happy to announce a new partnership with the Computer History Museum to launch a pilot of Picademy in the United States. Located in Mountain View, California, The Computer History Museum makes an incredible partner and we're excited to incorporate their educational content into the program.
We're piloting Picademy USA with 4 sessions starting in early 2016. Our goal is to give 100 US-based educators free, hands-on experience with Raspberry Pi and induct them into a growing group of Raspberry Pi Certified Educators worldwide. The first Picademy in the US will take place at The Computer History Museum. Exact dates and locations for the workshops are being confirmed. To express interest in an upcoming Picademy, please complete this form. It will help us get a sense of where in the US there's demand for professional development and you'll be signed up to receive updates when venues and dates are confirmed.
We're especially proud to announce this pilot in response to President Obama's call to action to create a Nation of Makers. Since a major focus of this call to action is in the realm of STEM education, it was a natural fit for Picademy to be our commitment to supporting efforts to use computers in the classroom for tinkering, coding, and project-based learning. I'll be with Computer History Museum's Kate McGregor at the White House for a kick off event this morning. Keep an eye on @Raspberry_Pi for ongoing updates and check back here later in the day for photos from that event.
Click here to express interest in Picademy USA and to find out more about the program.
We're at the @WhiteHouse today for the kick off of Maker Week and the launch of Picademy USA! #NationofMakers pic.twitter.com/DGV1jW89My

— Raspberry Pi (@Raspberry_Pi) June 12, 2015
.@whitehouseostp CTO @smithmegan holds a Raspberry Pi at the White House #weekofmaking launch event!#NationofMakers pic.twitter.com/qt2UK7drum

— Raspberry Pi (@Raspberry_Pi) June 12, 2015
Our very own @KatieMcGregor @WhiteHouse with @MattRichardson for #NationofMakers to announce Picademy USA! pic.twitter.com/9YQQK0UzKR

— Computer History (@ComputerHistory) June 12, 2015