Picademy Expands in the United States
By all accounts, the pilot expansion of Picademy to the United States has been a huge success. In fact, we've already held three workshops and inducted 120 new Raspberry Pi Certified Educators on U.S. soil. So far we've had two workshops in Mountain View, CA and one in Baltimore, MD.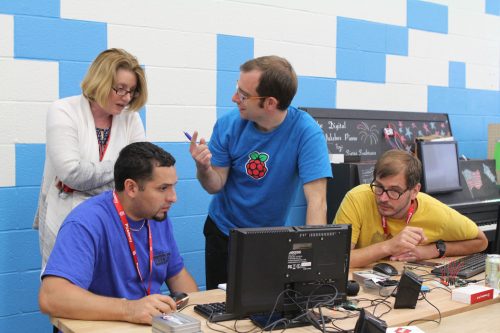 In December, we'll wrap up our 2016 program with a workshop at the Texas Advanced Computing Center at the University of Texas in Austin. If you're an educator and you'd like to join us for two days of mind-blowing professional development, please apply now.
And it gets even better. To build on the success of the pilot program, we are excited to announce that we will expand Picademy in the United States to over 300 educators and additional cities in 2017. In fact, we're making this announcement as a commitment to President Obama to join the Computer Science For All initiative, a call to action to expand CS education in K-12 classrooms in the United States. And today, the White House hosts a summit to mark progress on the initiative:
The case for giving all students access to CS is straightforward. Nine in ten parents want CS taught at their child's school and yet, by some estimates, only a quarter of K-12 schools offer a CS course with programming included. However, the need for such skills across industries continues to rapidly grow, with 51 percent of all science, technology, engineering, and math (STEM) jobs projected to be in CS-related field by 2018.
If you're a professional educator, we want you to join us at a Picademy workshop. We haven't yet selected the cities for 2017's program, but please fill out this form to receive an update when we announce new cities and when applications open.