Experience AI: The excitement of AI in your classroom
We are delighted to announce that we've launched Experience AI, our new learning programme to help educators to teach, inspire, and engage young people in the subject of artificial intelligence (AI) and machine learning (ML).
Experience AI is a new educational programme that offers cutting-edge secondary school resources on AI and machine learning for teachers and their students. Developed in partnership by the Raspberry Pi Foundation and DeepMind, the programme aims to support teachers in the exciting and fast-moving area of AI, and get young people passionate about the subject.
The importance of AI and machine learning education
Artificial intelligence and machine learning applications are already changing many aspects of our lives. From search engines, social media content recommenders, self-driving cars, and facial recognition software, to AI chatbots and image generation, these technologies are increasingly common in our everyday world.
Young people who understand how AI works will be better equipped to engage with the changes AI applications bring to the world, to make informed decisions about using and creating AI applications, and to choose what role AI should play in their futures. They will also gain critical thinking skills and awareness of how they might use AI to come up with new, creative solutions to problems they care about.
The AI applications people are building today are predicted to affect many career paths. In 2020, the World Economic Forum estimated that AI would replace some 85 million jobs by 2025 and create 97 million new ones. Many of these future jobs will require some knowledge of AI and ML, so it's important that young people develop a strong understanding from an early age.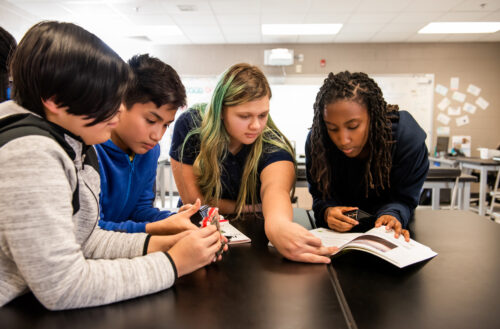 Experience AI Lessons
Something we get asked a lot is: "How do I teach AI and machine learning with my class?". To answer this question, we have developed a set of free lessons for secondary school students (age 11 to 14) that give you everything you need including lesson plans, slide decks, worksheets, and videos.
The lessons focus on relatable applications of AI and are carefully designed so that teachers in a wide range of subjects can use them. You can find out more about how we used research to shape the lessons and how we aim to avoid misconceptions about AI.
The lessons are also for you if you're an educator or volunteer outside of a school setting, such as in a coding club.
The six lessons
What is AI?: Learners explore the current context of artificial intelligence (AI) and how it is used in the world around them. Looking at the differences between rule-based and data-driven approaches to programming, they consider the benefits and challenges that AI could bring to society.
How computers learn: Learners focus on the role of data-driven models in AI systems. They are introduced to machine learning and find out about three common approaches to creating ML models. Finally the learners explore classification, a specific application of ML.
Bias in, bias out: Learners create their own machine learning model to classify images of apples and tomatoes. They discover that a limited dataset is likely to lead to a flawed ML model. Then they explore how bias can appear in a dataset, resulting in biased predictions produced by a ML model.
Decision trees: Learners take their first in-depth look at a specific type of machine learning model: decision trees. They see how different training datasets result in the creation of different ML models, experiencing first-hand what the term 'data-driven' means.
Solving problems with ML models: Learners are introduced to the AI project lifecycle and use it to create a machine learning model. They apply a human-focused approach to working on their project, train a ML model, and finally test their model to find out its accuracy.
Model cards and careers: Learners finish the AI project lifecycle by creating a model card to explain their machine learning model. To finish off the unit, they explore a range of AI-related careers, hear from people working in AI research at DeepMind, and explore how they might apply AI and ML to their interests.
As part of this exciting first phase, we're inviting teachers to participate in research to help us further develop the resources. All you need to do is sign up through our website, download the lessons, use them in your classroom, and give us your valuable feedback.
Support for teachers
We've designed the Experience AI lessons with teacher support in mind, and so that you can deliver them to your learners aged 11 to 14 no matter what your subject area is. Each of the lesson plans includes a section that explains new concepts, and the slide decks feature embedded videos in which DeepMind's AI researchers describe and bring these concepts to life for your learners.
We will also be offering you a range of new teacher training opportunities later this year, including a free online CPD course — Introduction to AI and Machine Learning — and a series of AI-themed webinars.
Tell us your feedback
We will be inviting schools across the UK to test and improve the Experience AI lessons through feedback. We are really looking forward to working with you to shape the future of AI and machine learning education.
Visit the Experience AI website today to get started.