Celebrating European Code Week with our annual EUDojo
On Wednesday 17 October, CoderDojo held the sixth annual EUDojo in the European Parliament in Brussels.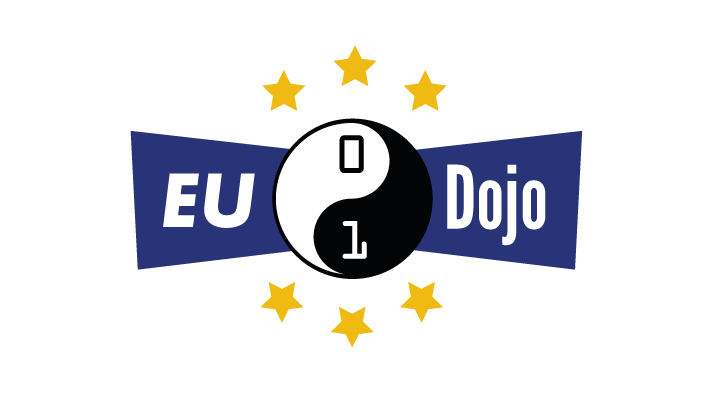 EUDojo 2018
Since last year's event, CoderDojo has grown significantly: we have almost 500 new Dojos, and our network now spreads to over 100 countries! We organised this year's EUDojo to coincided with the annual Europe Code Week — also in its sixth year.
Our event was co-hosted by MEP Seán Kelly and the EPP party, and it was attended by MEPs from over ten European countries. The other attendees were Dojo volunteers and parents from across Europe, along with more than 40 young coders!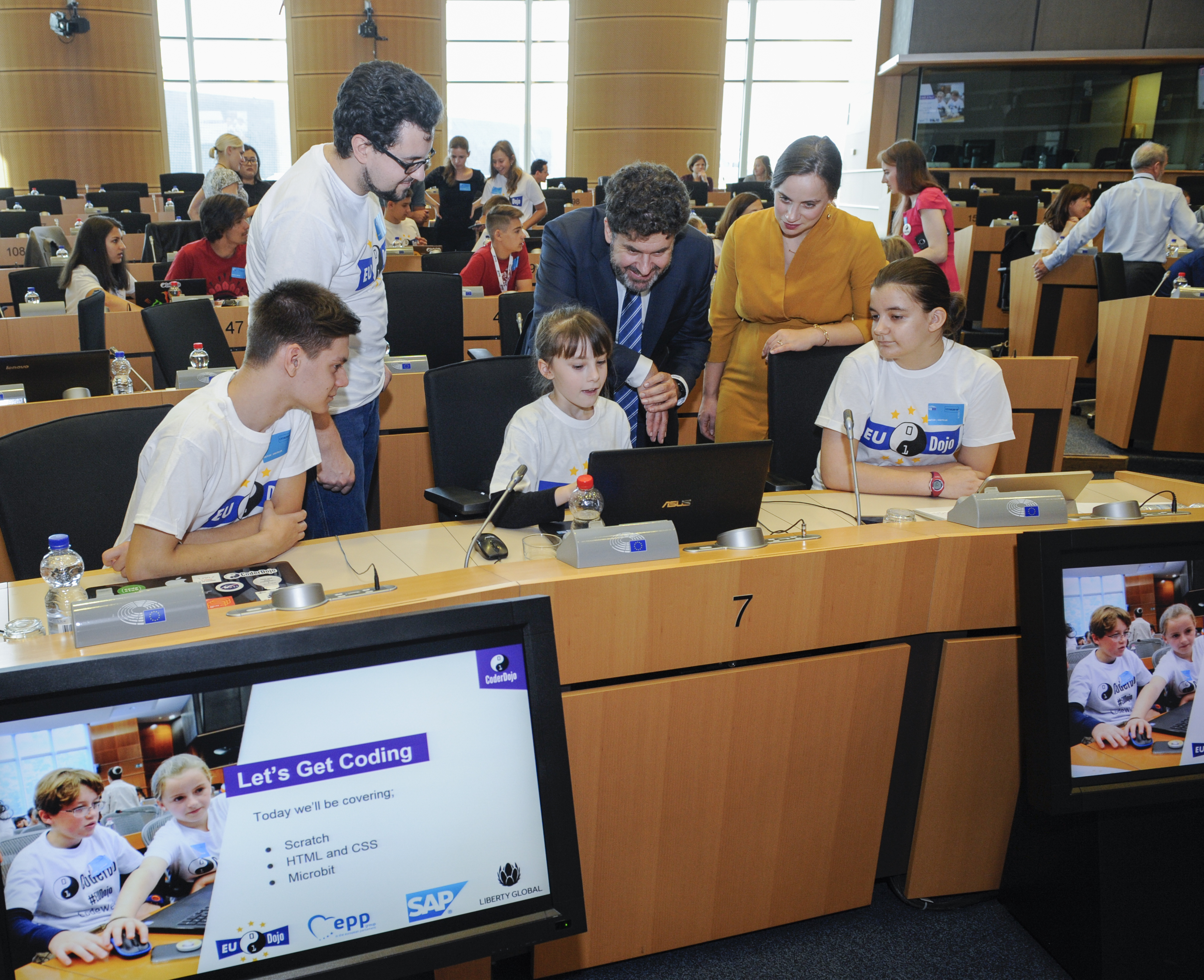 These young people travelled to the EU Parliament from Italy, the United Kingdom, Bulgaria, the Czech Republic, Moldova, Romania, Belgium, Spain, Portugal, and Ireland to showcase their coding and technology skills. The kids presented technology projects they had created to the MEPs and sponsors, and they also taught MEPs to write their first lines of code!
Irish MEP Seán Kelly opened EUDojo and spoke of the pride he felt working with CoderDojo on such a special event. During the coding session, the young coders taught MEPs how to create a basic game using Scratch, and showed them how to build a website using HTML and CSS. Participants also learned how to program micro:bits, which created a fantastic buzz amongst the MEPs and their young tutors.
Coding projects to impress the MEPs
The CoderDojo youths made great use of this opportunity to showcase projects that they have made in their local Dojos for the politicians and sponsors.
Nadezhda from the Sofia Dojo in Bulgaria showed off a Scratch game she had built to test players' agility skills, taking inspiration from river crossing puzzles.
Lucy Brennan and Caragh Bolger from the Waterford Dojo in Ireland presented two very different projects. Lucy demonstrated Piano Pal, a project she created to help people learn and practice to play the piano. Caragh Bolger presented her project How to make the world a better place, which is about the little things that make the world better.
Edward from Harrogate Dojo, UK, presented his project for encrypting and decrypting files in C++ .
Innovators of the future
Cabinet member Manuel Mateo Goyet discussed the importance of digital skills, highlighting the importance of encouraging girls to get involved. He noted that he was delighted to see just as many girls coding at EUDojo as boys, and that he was looking forward to sharing photos from the day with his daughter to encourage her too.
Karolina Telejko, SAP's EU Government Relations Director, discussed their approach to training, lifelong learning, and building partnerships, and explained why EUDojo sponsor SAP decided to help spread coding skills around the world.
Derk Oldenburg of Liberty Global spoke about social innovation and how it is promoted by CoderDojo's Future Makers Bento Box resources for young coders. He challenged young people around the world to find a social issue they care about and design a solution to it using technology.
Giving young people the space to become inventors
Giustina Mizzoni, Executive Director of the CoderDojo Foundation, hopes that this event will drive more organisations and public services to invest in young people's technology skills.
"We are delighted to be co-hosting EU Dojo, the flagship CoderDojo Europe Code Week event, for the sixth year running. This event was made possible thanks to our partners Liberty Global and SAP, and the team at MEP Sean Kelly's office. At this year's event, we are marking the work of libraries and the significant contribution they make to the CoderDojo movement."
"Today, as always, I was incredibly impressed by the young people's projects. All of these projects had one thing in common: they were made using creativity! Learning how to code gives young people the opportunity to express themselves and develop their skills. I hope that, as a result of today, more library groups will be inspired to join the CoderDojo movement, and use their space to give more young people the opportunity to code, create, and learn about technology!"
Learn more about CoderDojo
If you'd like to find out more about CoderDojo, from their to starting a Dojo in your local area, visit the CoderDojo website. You can also sign up for our free three-week online training course, and learn everything you need to start a Dojo and help enable young people worldwide to create and explore technology together: