Happy 7th birthday, CoderDojo!
Happy birthday, CoderDojo ?
Seven years ago today, on 23 July, James Whelton and Bill Liao held the first-ever CoderDojo session in Cork, Ireland. When that first group of volunteers and young people (Ninjas) came together to learn how to make a website, design a game, or write their first program, they never imagined how far the CoderDojo movement would go. But the message of CoderDojo and its values of openness, inclusivity, creativity, and community have resonated with many thousands of people and continue to encourage them to get involved to learn and to volunteer.
Going global in 95 countries
Since that first Dojo session, the movement has become truly global: there are now more than 1900 Dojos in 95 countries around the world. And not only CoderDojo clubs have developed, but also a fantastic, welcoming, worldwide community of volunteers, and a foundation that provides it with support and resources and is part of the Raspberry Pi family.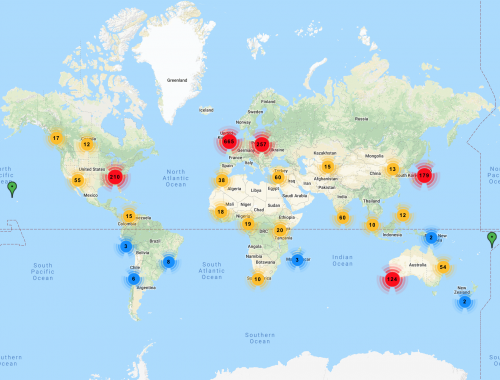 Sharing the community spirit
As if running and growing the network of Dojos wasn't enough, our community also runs wonderful events: CoderDojo volunteers started the Coolest Projects showcase in 2012 as a way for Ninjas to come together and share the projects they have created.
This year, more than 1000 young coders showcased what they have built at the international Coolest Projects event in Dublin, with regional events taking place in Belgium, Bulgaria, Italy, the UK and, in two months' time, in North America.
Passionate CoderDojo community members also saw the importance of meeting each other and sharing experiences of running their Dojos, so they decided to create an event to bring community members together: DojoCon gives volunteers from around the world the opportunity to gather in person, make friends, and learn from each other to better run and develop their Dojos. Regional DojoCons have been held in Toscana (Italy), Perth (Australia), and Osaka (Japan), along with numerous smaller mentor meetups that offer more localised support and friendships.
And MegaDojos have enabled groups of hundreds of young people to meet up for a day and code together, also providing the chance for newcomers to get involved and try a variety of technologies.
Forming regional bodies
In regions where the concentration of Dojos and the drive to create more clubs are high, CoderDojo community members have formed regional bodies to provide focused support for growth.
"We are located in a city in Italy hit by the earthquake in 2016. We do not have a lot of places to meet. But every month, with a lot of work, we organize a CoderDojo, and the happiness in the children's eyes is all we need!" – Dojo champion, Macerata, Italy
This highlights the grass-roots nature of the movement, and the passion that people involved have to achieve our goal of every child worldwide having the opportunity to learn to code and to be creative with technology in a safe and social environment.
Publications and initiatives
Since 2011, community members have created and shared learning resources, and translated content at home and in organised hackathon events to help more young people learn to program. Following on from these resources developed in Dojos, two CoderDojo books have been released and translated into ten languages to help even young people in areas where Dojos haven't cropped up develop the skills to be tech creators.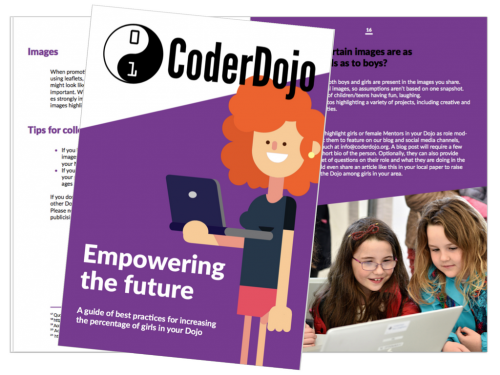 The CoderDojo Foundation is implementing initiatives to encourage diversity in all Dojos, such as the CoderDojo Girls Initiative, which was inspired by and shares the outstanding work that Dojo volunteers around the world already do to encourage more girls to become Ninjas and learn to code.
Award winners
Since CoderDojo began, we've had eight girls attending Dojos be named European Digital Girl of the Year. Ninjas have been nominated for the BAFTA Young Game Designers award and won regional robotics challenges. They've travelled to the European Parliament to show MEPs a thing or two about coding. Ninjas have coded in libraries, tech-hubs, nursing homes, hotels, community centres, children's hospitals, under trees, and on buses!
Answering the call
CoderDojo has encouraged cross-collaboration and intercultural learning. For example, Ninjas in Japan made 1000 origami shuriken to share with Ninjas attending this year's Coolest Projects International in Dublin, and young people and volunteers in Dojos in Argentina and Belgium worked together to enter the European Astro Pi Challenge. And on community calls, volunteers from different continents, who would never have the opportunity to talk to each other otherwise, ask each other questions and offer each other advice.
"CoderDojo provides Ninjas with a positive, safe space for them to exercise their brain and to work on various projects. The sense of recognition and achievement among the young people is amazing. [Where our Dojo is located] is considered a disadvantaged area with a high level of poverty, substance misuse issues, and unemployment. Having such a positive space like CoderDojo for the young people of this community is acting as a prevention factor to the issues. Our young people are continuously learning, exploring, building relationships, and increasing their chances at a better quality of life." – Dojo mentor, North Dublin, Ireland
Over the past seven years, thousands of amazing volunteers and supporters around the world have enabled 200000 young people to be technology creators. In 2017 alone, volunteers gave an incredible 290000 hours to support Ninjas to gain the confidence and skills to create with code!
It was amazing celebrating our 7th birthday today. Well done in particular to all the young people who attended, those who shared what they were working on with the Duke & Duchess of Sussex, to their parents/guardians, & all the volunteers for their support thoughout the day!♥️ pic.twitter.com/G7MH0b1RsG

— ☯CoderDojo☯ (@CoderDojo) July 11, 2018
But it's not just time they give, volunteers have contributed their enthusiasm, creativity, and love to create a generous and fun community! We would not have reached this seventh birthday without all the champions, mentors, and other volunteers who are the backbone of the CoderDojo movement, so thank you! We hope, with all your help, to continue to inspire young coders around the world.
Join the CoderDojo movement
"As the champion, the Dojo is the thing in my life I am most proud of, and that I look forward to each week. It is the most meaningful thing that I do, and seeing all the kids having a great time with their friends each week, and enjoying the learning experience, is truly fulfilling. It makes me wish I was young again to have such an opportunity to learn and be cool with all the great kids involved. It re-ignites my own passion for technology, which sometimes is easy to forget!" – Dojo champion, Kildare, Ireland
If you would like to start a fun, inclusive coding club for 7- to 17-year-olds in your local area, then find out more about setting up a Dojo here.