The CoderDojo Girls Initiative
In March, the CoderDojo Foundation launched their Girls Initiative, which aims to increase the average proportion of girls attending CoderDojo clubs from 29% to at least 40% over the next three years.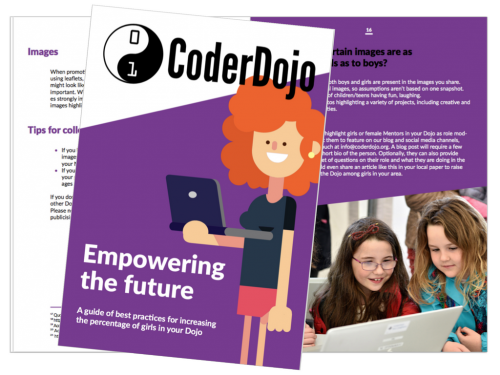 Six months on, we wanted to highlight what we've done so far and what's next for our initiative.
What we've done so far
To date, we have focussed our efforts on four key areas:
Developing and improving content
Conducting and learning from research
Highlighting role models
Developing a guide of tried and tested best practices for encouraging and sustaining girls in a Dojo setting (Empowering the Future)
Content
We've taken measures to ensure our resources are as friendly to girls as well as boys, and we are improving them based on feedback from girls. For example, we have developed beginner-level content (Sushi Cards) for working with wearables and for building apps using App Inventor. In response to girls' feedback, we are exploring more creative goal-orientated content.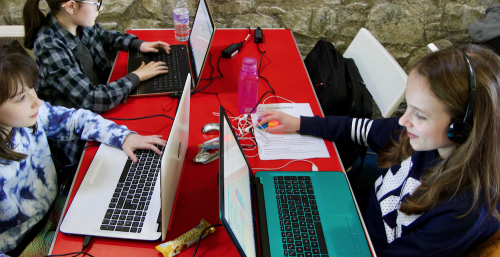 Moreover, as part of our Empowering the Future guide, we have developed three short 'Mini-Sushi' projects which provide a taster of different programming languages, such as Scratch, HTML, and App Inventor.
What's next?
We are currently finalising our intermediate-level wearables Sushi Cards. These are resources for learners to further explore wearables and integrate them with other coding skills they are developing. The Cards will enable young people to program LEDs which can be sewn into clothing with conductive thread. We are also planning another series of Sushi Cards focused on using coding skills to solve problems Ninjas have reported as important to them.
Research
In June 2017 we conducted the first Ninja survey. It was sent to all young people registered on the CoderDojo community platform, Zen. Hundreds of young people involved in Dojos around the world responded and shared their experiences.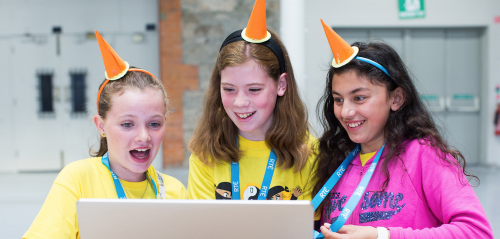 We are currently examining these results to identify areas in which girls feel most or least confident, as well as the motivations and influencing factors that cause them to continue with coding.
What's next?
Over the coming months we will delve deeper into the findings of this research, and decide how we can improve our content and Dojo support to adapt accordingly. Additionally, as part of sending out our Empowering the Future guide, we're asking Dojos to provide insights into their current proportions of girls and female Mentors.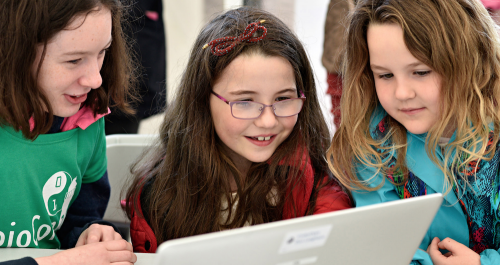 We will follow up with recipients of the guide to document the impact of the recommended approaches they try at their Dojo. Thus, we will find out which approaches are most effective in different regional contexts, which will help us improve our support for Dojos wanting to increase their proportion of attending girls.
Role models
Many Dojos, Champions, and Mentors are doing amazing work to support and encourage girls at their Dojos. Female Mentors not only help by supporting attending girls, but they also act as vital role models in an environment which is often male-dominated. Blogs by female Mentors and Ninjas which have already featured on our website include:
What's next?
We recognise the importance of female role models, and over the coming months we will continue to encourage community members to share their stories so that we bring them to the wider CoderDojo community. Do you know a female Mentor or Ninja you would like to shine a spotline on? Get in touch with us at info@coderdojo.org. You can also use #CoderDojoGirls on social media.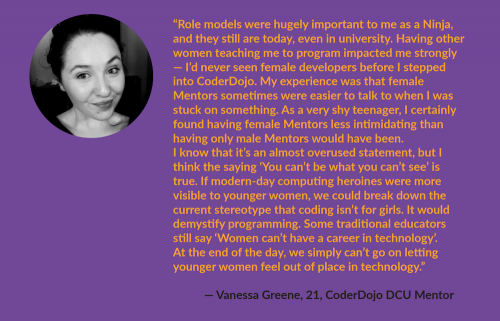 Empowering the Future guide
Ahead of Ada Lovelace Day and International Day of the Girl Child, the CoderDojo Foundation has released Empowering the Future, a comprehensive guide of practical approaches which Dojos have tested to engage and sustain girls.
Some topics covered in the guide are:
Approaches to improve the Dojo environment and layout
Language and images used to describe and promote Dojos
Content considerations, and suggested resources
The importance of female Mentors, and ways to increase access to role models
For the next month, Dojos that want to improve their proportion of girls can still sign up to have the guide book sent to them for free! From today, Dojos and anyone else can also download a PDF file of the guide.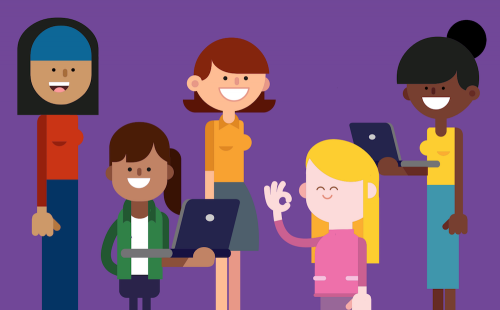 We would like to say a massive thank you to all community members who have shared their insights with us to make our Empowering the Future guide as comprehensive and beneficial as possible for other Dojos. The CoderDojo Foundation would also like to thank Microsoft, our funding partner on this project, for their commitment to making STEM skills training available to European youth.
Tell us what you think
Have you found an approach, or used content, which girls find particularly engaging? Do you have questions about our Girls Initiative? We would love to hear your ideas, insights, and experiences in relation to supporting CoderDojo girls! Feel free to use our forums to share with the global CoderDojo community, and email us at info@coderdojo.org.