Sonic Pi v2.0 competition for schools is launched!
The deadline for this competition has been extended till 9th January 2015.
This week, Dr Sam Aaron released the much anticipated final version of Sonic Pi v2.0. It will be replacing Sonic Pi v1 on Raspbian very soon, and you will be able to get it via our Downloads page (we will let you know when). In the meantime, you can follow the instructions at the bottom of this post to download and install it. The latest version of Sonic Pi brings music creation and performance to the forefront with live coding capabilities, parameter modification, samples and much more!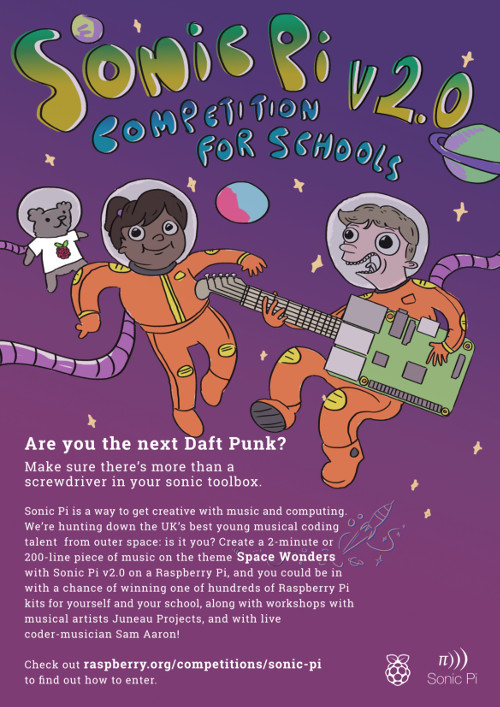 To celebrate, we have launched the first ever Sonic Pi Competition to find some of the best space-themed music, coded with Sonic Pi v2.0 by school children in the UK. The Sonic Pi Competition is designed to encourage school students aged between 6 and 16 years old to use their creativity and coding knowledge to create a unique and original two-minute piece of music on a Raspberry Pi device.
Entries need to include an audio file of what the music sounds like, the code used to create it, a short written description, and a cover art file.
All entries will be put into a hat to win a Raspberry Pi and SD card at random. Semi-finalists will win a Sonic Pi half-day workshop with Sam Aaron and Juneau Projects for their school, and a custom Sonic Pi Pibow case. Overall winners in each category will win a Sonic Pi classroom kit containing 25 x Raspberry Pis and peripherals for their school and a Minirig speaker, as well as a Sonic Pi Competition trophy designed by artists Juneau Projects.
The final will take place at the Cambridge Junction on 4th November 2014 as part of the Sonic Pi Live & Coding Summit, with the 12 semi-finalists (four in each category) introducing and playing their music on a Raspberry Pi to the audience in front of an expert panel of judges.
You can find everything you need know, including some lesson plans to get your students started, in this new Sonic Pi Competition Resource. You'll find the entry form here.
The deadline for entries is 13th October 2014, so get creative with your code, and become the next big thing in music!
Sonic Pi v2.0 can be downloaded right now by typing the following from the command line or LXTerminal window:
sudo apt-get update
sudo apt-get install sonic-pi