PA Consulting Raspberry Pi Competition
The PA Raspberry Pi competition challenges young people to use the Raspberry Pi to make the world a better place. Last year I helped judge the competition and was amazed by the creativity and innovation of the entries (the excellent AirPi was one of last year's winners). This year's event was held in the Science Museum, and I went along to judge the Year 4-6 and Year 7-11 categories, and to run some workshops along the way.
The Sonic Pi workshops were fantastic—they almost ran themselves, with the students continually trying out new things in quest to make the best music or silliest sounds (the exploding farmyard was a particular favourite). I've said it before, but Sonic Pi is genius.
In the afternoon I joined my fellow judges: Rory Cellan-Jones, the BBC's technology correspondent, and Claire Sutcliffe, co-founder of Code Club. We spent 15 minutes talking to each of the seven teams. The winning projects had to have the potential to benefit the world in some way and we were also looking for things like innovation, creativity and originality. What really stood out was the energy of the teams — they all talked passionately and knowledgeably about their projects and how they had used the Raspberry Pi to solve real world problems.
The year 4-6 category was won by St Mary's CE Primary School with their recycling robot Pi 'n' Mighty. The robot scans packaging barcodes and then tells you if it can be recycled and which bin to put it in. The team was bursting with energy and falling over themselves to explain how they'd made it and what it did. I'd love to see a Pi 'n' Mighty in every school canteen, encouraging recycling and helping children learn about the topic. And it looks fantastic, exactly how a robot should look!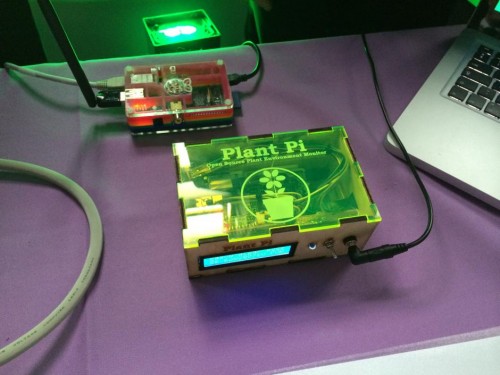 Frome Community College won the year 7-11 category prize with their prodigious Plant Pi, a system to care for plants and monitor their environment. The team had covered every aspect including hardware and web monitoring, and they had even created an app. It really is a brilliantly designed and engineered solution that already has the makings of a commercial product. The project is open source and includes code, instructions, parts list and documentation.
It was a great day and it was a real pleasure to speak to the finalists and to see young people doing remarkable and useful things with the Raspberry Pi. If I could bottle the innovation, enthusiasm, creativity and technical skills in that room then I would have a Phial of Awesome +10. (I would carry it around with me in a belt holster and open it for the occasional sniff when feeling uninspired.) Best of all, I know that we'll be seeing some of these finalists again: skills like computational thinking stay with you for life and will serve these kids in whatever they do in the future.