Picademy – UK teachers, apply to take part!
On 14th and 15th April we ran the first ever Raspberry Pi Academy for Teachers: 'Picademy' for short. We invited 24 teachers from all over the UK to come to Pi Towers and be part of a very different type of training programme. We had hoped — rather than expected — to attract educators from a range of backgrounds, schools and even subject areas who were open to trying something new with Raspberry Pi. What we got was 24 super-creative and innovative teachers who were willing to be learners and leaders; who were creative with ideas; and who are continuing to have an impact within their schools and communities with Raspberry Pi and Computing.
As you can see from the new Picademy area of our forums, the graduates from the first Picademy have their own forum tag of 'Raspberry Pi Certified Educator' (and even a little enamel badge to wear). Some of the cohort have been interviewed by the MagPi magazine for a forthcoming issue, and some will be part of a panel discussion at the next Cambridge Raspberry Jam! I'm looking forward to hearing more from our first cohort about their school Raspberry Pi projects; and I'm looking forward to the resources that they will help us produce and test over the coming months. It is an exciting time for computing education!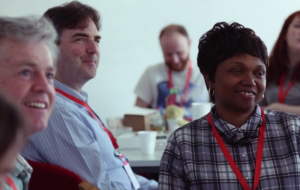 Following the success of the first Picademy, we will be running two more Picademy sessions on 16th–17th June and 14th–15th July. If you would like to take part in either of these, then please fill out the application form by May 30. We welcome applications from teachers from any subject areas, not just computing; there is a lot of cross-curricular activity available for subjects from art to geography. We'd also like you to provide a link to either a video, a blog post, or an audio recording on the topic of 'Being a 21st century teacher' (maximum length for audio and video is one minute) – this isn't compulsory, but it'll help support your application.
Attending Picademy is free, and we'll feed you while you're here too (although you or will have to pay for overnight accommodation in Cambridge). Please note that at this time we are only accepting applications from people who are classroom teachers at schools in the UK. Finally, if you still have any doubts as to whether Picademy is for you, here's what some of our new Raspberry Pi Certified Educators had to say after the first Picademy:
Thanks for the fantastic two days at Picademy. You must have put so much effort into it and it was brilliant. Best CPD I have ever been on – and it was FREE!!! Many thanks – ED

Thanks so much for inviting me to the event. I have come away with so many ideas which I will start implementing into the school classrooms and then hopefully into other schools at events. – RD

Thank you so much for a lovely two days – My mind is buzzing with ideas. – LD

I've been playing around with Scratch and Minecraft, and have some code now that links the two together – it was so easy to develop after the workshop we had! I'll put it on GitHub when I'm happy with it. – RJ