Cambridge Computing Education Research Symposium – recap of our online event
On Wednesday, we hosted the first-ever Cambridge Computing Education Research Symposium online. Research in computing education, particularly in school and for young people, is a young field compared to maths and science education, and we do not have much in terms of theoretical foundations. It is not a field that has received a lot of funding, so we cannot yet look to large-scale, longitudinal, empirical studies for evidence. Therefore, further research on how best to teach, learn, and assess computing is desperately needed. We also need to investigate ways of inspiring and motivating all young people in an area which is increasingly important for their future.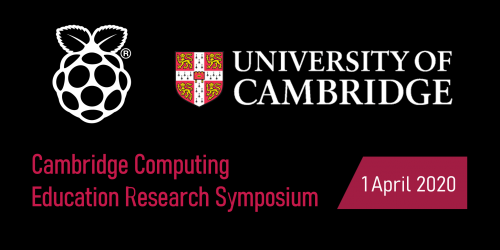 That's why at the Raspberry Pi Foundation we have made research a key part of our new strategy, and that's why we worked with the University of Cambridge to hold this event.
Moving the symposium online
This was to be our first large-scale research event, held jointly with the University of Cambridge Department of Computer Science and Technology. Of course, current circumstances made it necessary for us to turn the symposium from a face-to-face into an online event at short notice.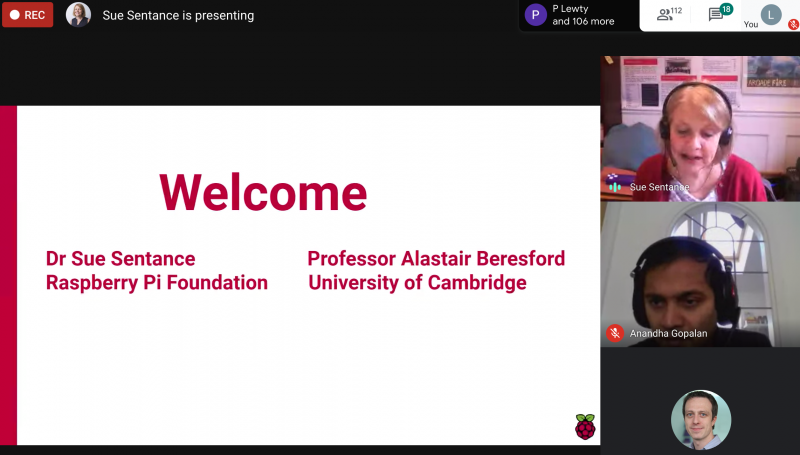 An enthusiastic team took on the challenge, and we were delighted with how well the way the day went! You can see what participants shared throughout the day on Twitter.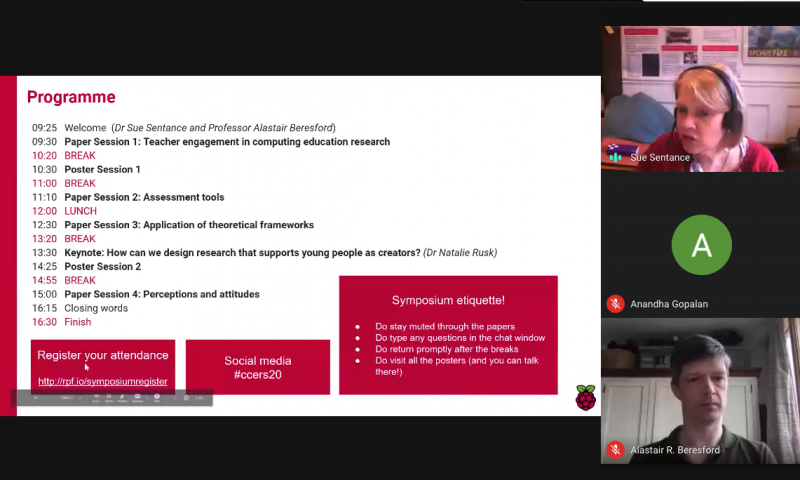 Keynote presentation
Our keynote speaker was Dr Natalie Rusk of MIT and the Scratch Foundation, who shared her passion for digital creativity using Scratch.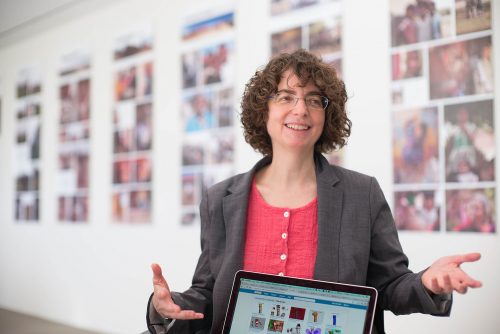 We were excited to see images from early versions of Scratch and how it had developed over the years. Plus, Natalie revealed the cat blocks that were available on 1 April only — I had completely forgotten the day of the symposium was April Fools' Day! The focus of Natalie's presentation was on creativity, invention, tinkering, and the development of ideas over time, and she explored case studies of two 'Scratchers' who took a very different approach to working in the Scratch community on projects. The talk was well received by all.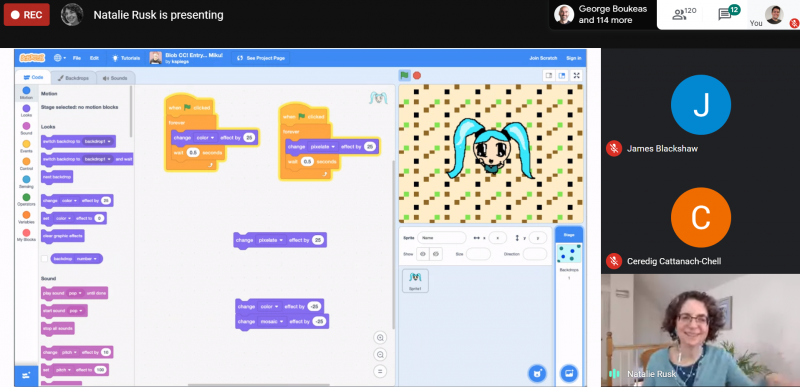 Paper presentations
We heard from researchers from a range of institutions on topics under these themes:
Working with teachers on computing education research
Assessment tools and techniques
Perceptions and attitudes about computing
Theoretical frameworks used for computing education
Highlights for me were Ethel Tshukudu's analysis of the way students transfer from one programming language to another, in which she draws on semantic transfer theory; and Paul Curzon's application of Karl Maton's semantic wave theory (taken from linguistics) to computing education.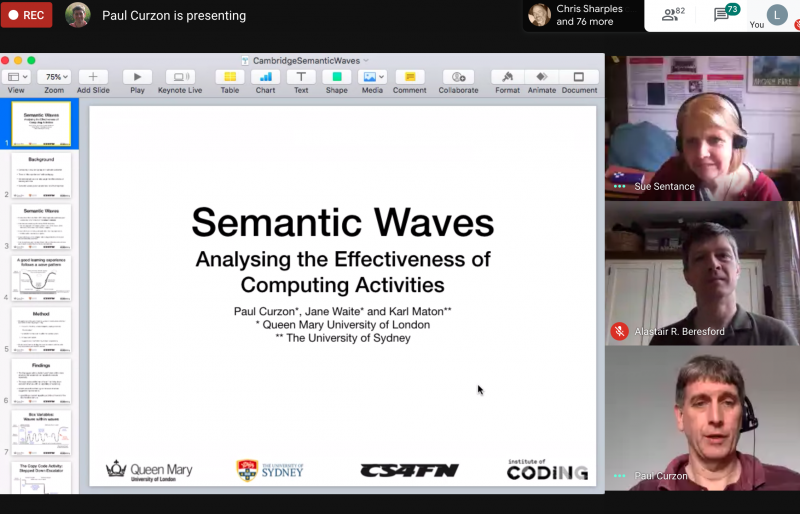 The symposium's focus was computing for young people, and much of the research presented was directly grounded in work with teachers and students in learning situations. Lynne Blair shared an interesting study highlighting female participation in A level computer science classes, which found the feeling of a lack of belonging among young women, a finding that echoes existing research around computing education and gender. Fenia Aivaloglou from the University of Leiden, Netherlands, considered the barriers faced by learners and teachers in extra-curricular code clubs, and Alison Twiner and Jo Shillingworth from the University of Cambridge shared a study on engaging young people in work-related computing projects.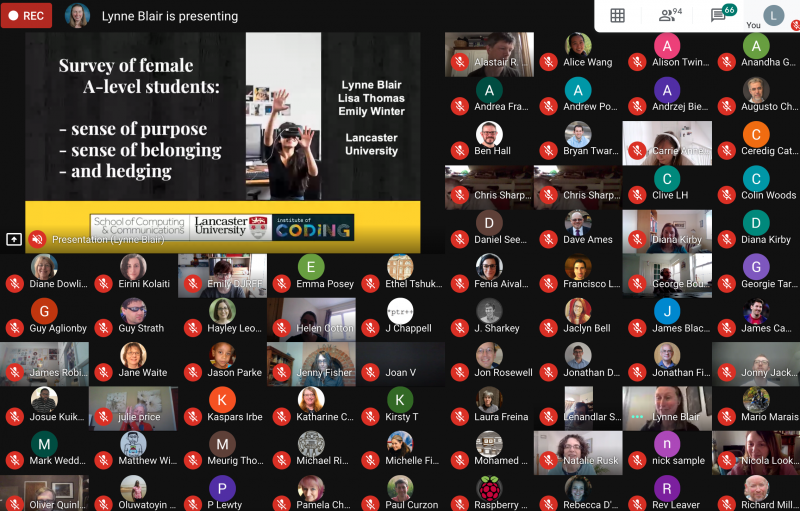 We also heard how tools for supporting learners are developing, for example machine learning techniques to process natural language answers to questions on the free online learning platforms Isaac Computer Science and Isaac Physics.
Poster presentations
For the poster sessions, we divided into separate sessions so that the poster presenters could display and discuss their posters with a smaller group of people. This enabled more in-depth discussion about the topic being presented, which participants appreciated at this large online event. The 11 posters covered a wide range of topics from data visualisations in robotics to data-driven dance.
We showcased some of our own work on progression mapping with learning graphs for the NCCE Resource Repository; the Isaac Computer Science A level content platform; and our research into online learning with our free online courses for teachers.
Running an online symposium — what is it like?
From having successfully hosted this event online, we learned many lessons that we want to put into practice in future online events being offered by the Raspberry Pi Foundation.
There's a plethora of tools available, and they all have their pros and cons (we used Google Meet). It's my view that the tool is less important than the preparation needed for a large-scale online event, which is significant! The organising team hosted technical run-throughs with all presenters in the two days before the event, and instigated a 'green room' for all presenters to check their setups again five to ten minutes before their speaking slot. This helped to avoid a whole myriad of potential technical difficulties.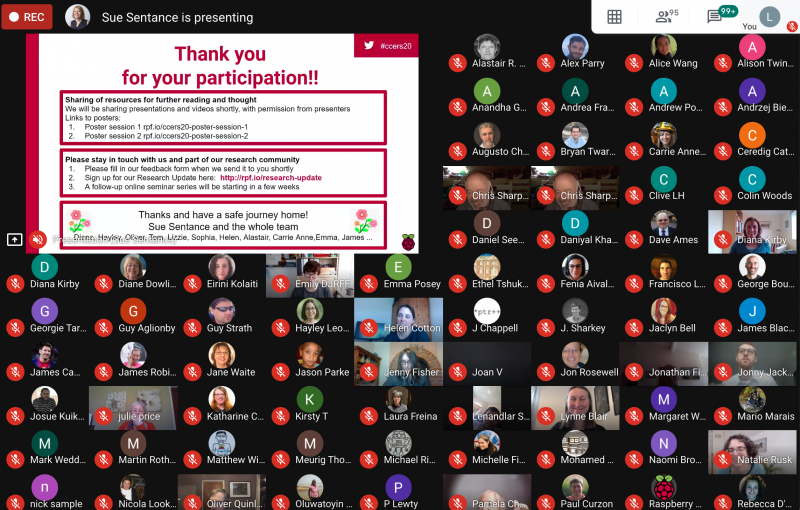 I'm so grateful to the great team at the Raspberry Pi Foundation, who worked behind the scenes all day to make sure that the participants and presenters got the most out of the event!
Stay in touch!
On the Research Symposium web page, you can now download the symposium's abstract booklet. We will shortly be sharing recordings of the symposium's presentations and files of slides and posters there as well.
When we moved the symposium online, we postponed two pre-symposium events: a workshop on gender balance, and a workshop on research-to-practice; we're hoping to hold these as in-person events in the autumn.
Meanwhile, we are planning a series of online seminars, set to start on Tuesday 5 May at 17:00 BST and continue throughout the summer at two-week intervals.
If you're interested in receiving a regular update about these and other research activities of ours, sign up to our newsletter.
We look forward to building a community of researchers and to sharing more of our work with you over the coming years.