Coolest Projects: for young people across the Raspberry Pi community
Coolest Projects is a world-leading annual showcase that empowers and inspires the next generation of digital creators, innovators, changemakers, and entrepreneurs. Young people come to the event to exhibit the cool ideas they have been working on throughout the year. And from 2018, Coolest Projects is open to young people across the Raspberry Pi community.
A huge fair for digital making
When Raspberry Pi's Philip and Ben first visited Coolest Projects, they were blown away by the scope of the event, the number of children and young people who had travelled to Dublin to share their work, and the commitment they demonstrated to work ranging from Scratch projects to home-made hovercraft.
Coolest Projects International 2018 will be held in Dublin, Ireland, on Saturday 26 May. Participants will travel from all over the world to take part in a festival of creativity and tech. We hope you'll be among them!
Coolest Projects International and Coolest Projects UK
As well as the flagship international event in Dublin, Ireland, there are regional events in other countries. All these events are now open to makers and creators across the Raspberry Pi community, from Dojos, Code Clubs, and Raspberry Jams.
This year, for the first time, we are bringing Coolest Projects to the UK for a spectacular regional event! Coolest Projects UK will be held at Here East in London on Saturday 28 April. We're looking forward to discovering over 100 projects that young people have designed and built, and seeing them share their ideas and their passion for technology, make new friends, and learn from one another.
Who can take part?
If you're up to 18 years of age and you're in primary, secondary, or further education, you can join in. You can work as an individual or as part of a team of up to five. All projects are welcome, whether you're a beginner or a seasoned expert.
You must be able to attend the event that you're entering, whether Coolest Projects International or a regional event. Getting together with other makers and their fantastic projects is a really important and exciting part of the event, so you can't take part with an online-only or video-only entry. There are a few rules to make sure everything runs smoothly and fairly, and you can read them here.
How do I join in?
Your project should fit into one of six broad categories, covering everything from Scratch to hardware projects. If you've made something with tech, or you've got a project idea, it will probably fit into one of them! Once you've picked your project, you need to register it and apply for your space at the event. You can register for Coolest Projects International 2018 right now, and registration for Coolest Projects UK 2018 will open soon: join our email list to get an update when it does.
How will you choose who gets a place?
There are places available for 750 projects, and our goal is to have enough room for everyone who wants to come. If more makers want to bring their projects than there are places available, we'll select entries to show a balance of projects from different regions and different parts of our communities, from groups and individuals, and from girls and boys, as well as a good mixture of projects across different categories.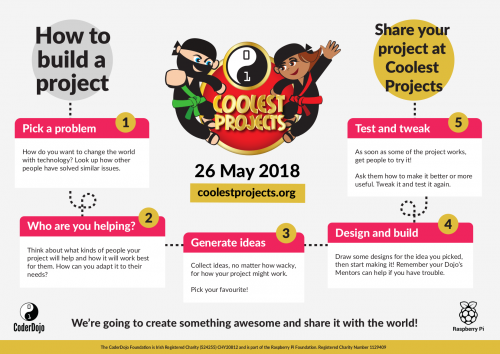 I need help to get started, or help to get there
To help get your ideas flowing and guide you through your project, we've prepared a set of How to build a project worksheets. And if you'd like to attend Coolest Projects International, but the cost of travel is a problem, you can apply for a travel bursary by 31 January.
Coolest Projects is about rewarding creativity, and we know the Raspberry Pi community has that in spades. It's about having an idea and making it a reality using the skills you have, whether this is your first project or your fifteenth. We can't wait to see you at Coolest Projects UK or Coolest Projects International this year!