CoderDojo Coolest Projects 2016
This weekend Philip and I went to Dublin to attend CoderDojo Coolest Projects. We got to meet hundreds of brilliant young digital makers and amazing volunteers.
As the event kicked off the news broke that Tim Peake had landed safely back on Earth, which meant Philip had to make some last minute changes to his presentation…
"Who knows who this is?"
"It's Tim Peake"
"Where is he?"
"In space"
"No – he's back on Earth!" pic.twitter.com/elfNXcAwsX

— Ben Nuttall (@ben_nuttall) June 18, 2016
As we walked around the venue we grew more and more impressed by the projects on show. We asked each exhibiting group to talk us through their project, and were genuinely impressed by both the projects and their presentation. The first area we perused was the Scratch projects – games, animations, quizzes and more. I'm not the most accomplished Scratch programmer so I was very impressed with what we were shown.
When we moved on to a room of physical computing projects, we met Iseult Mangan, Ireland's first Raspberry Pi Certified Educator:
I met Ireland's first ever @Raspberry_Pi certified educator @IseultMangan pic.twitter.com/9RbLANKZdX

— Philip Colligan (@philipcolligan) June 18, 2016
One of Iseult's students, Aoibheann, showed us a website she'd made all about Raspberry Pi:
This 9 year old Coder wrote her own @Raspberry_Pi website: https://t.co/n76wYpaqAa – check it out! pic.twitter.com/TagshFWt2k

— Philip Colligan (@philipcolligan) June 18, 2016
I even bumped into Tim Peake a few times…
.@astro_timpeake sure gets about pic.twitter.com/4oS1tFgvQu

— Ben Nuttall (@ben_nuttall) June 18, 2016
The Coolest of Projects
Here are some of my favourite projects.
First up, a home-made 3D holographic display. The picture does it no justice, but look close (or click to embiggen) and you'll see the Scratch cat, which was spinning around as part of a longer animation. The girl who made it said she put it together out of an old CD case. Very cool indeed!
Plenty of great robots…
We arrived at a beautiful Pi-powered retro gaming console, and spoke to the maker's Dad. He was excited for his son to be able to show his project to people from the Raspberry Pi Foundation and asked if we could stick around to wait for him to return. Here he is: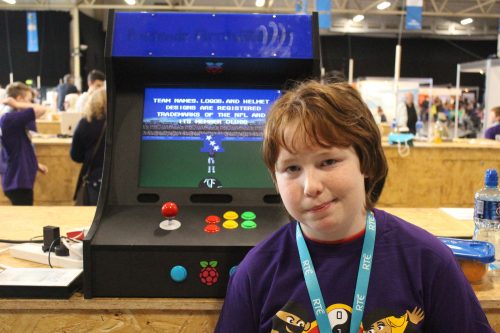 When I mentioned one of my favourite Mega Drive games, he loaded it up for me to play:
This was really impressive: these two girls had made a Wii remote-controlled hovercraft with a Raspberry Pi: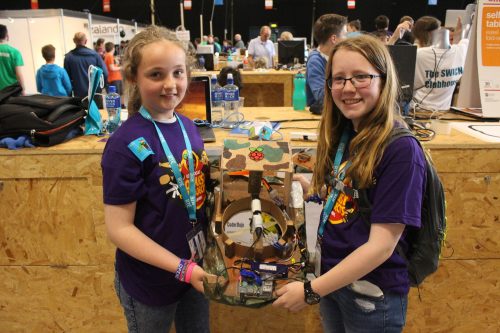 https://vine.co/v/ilTpTuEXF2z
I met DJ Dhruv, who demonstrated his livecoding skills in Sonic Pi, and gave a very professional presentation involving a number of handshakes:
DJ Dhruv is livecoding in @sonic_pi and teaching us about the history of the amen break. @samaaron you'd love this pic.twitter.com/tSrn0CTQzP

— Ben Nuttall (@ben_nuttall) June 18, 2016
Pi-vision: a way to help blind people find their way around…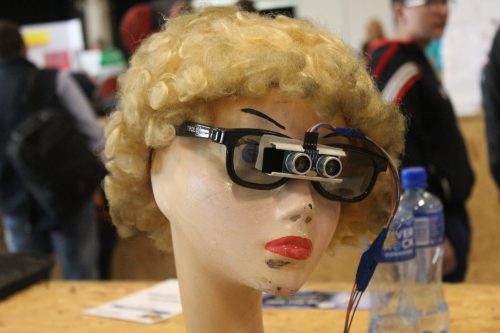 Probably my favourite of all, this group created a 3D Minecraft Pi booth using mirrors. They showed me their Python code which ran simultaneously on two Pis, while one played music in Sonic Pi, with cross-application communication between Python and Sonic Pi to coordinate timings. A Herculean effort achieving a wonderful effect.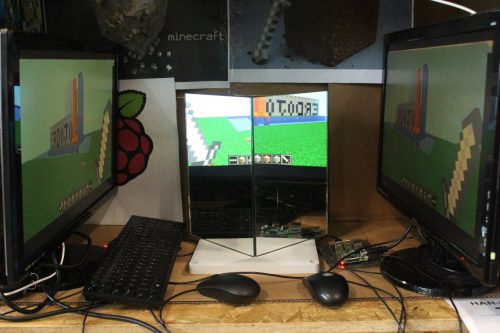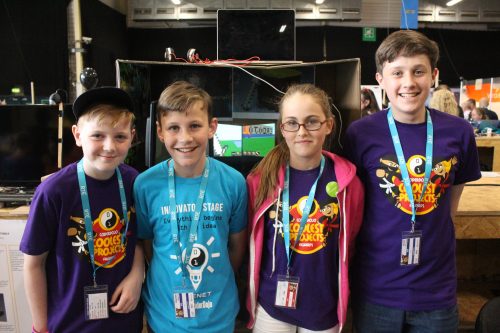 How can you get involved?
If you want to join us in giving more young people the opportunity to learn programming skills, learn to make things with computers, and generally hack things that didn't need hacking, there are plenty of ways you can get involved. You can:
Set up a Raspberry Jam in your area, or volunteer to help out at one near you
Start a Code Club at a local primary school, or another venue like a library or community centre
Set up a CoderDojo, or offer to help at one near you
Remember we have plenty of awesome resources on our website – perfect for Jams, Code Clubs and Dojos.
Also, I should point out we have an job opening for a senior programme manager. We're looking for someone with experience running large programmes for young people. If that's you, be sure to check it out!
https://raspberrypi.workable.com/jobs/269627
It's kind of a thing to end blog posts with a GIF, so here's mine:
Machine learning pic.twitter.com/c3sIJPd3PS

— SwiftOnSecurity (@SwiftOnSecurity) June 20, 2016