#CharityTuesday: Code Club in Scotland
Continuing the coverage of our new Code Club videos on YouTube, here's our second #CharityTuesday blog post. To offer a little more information on the themes of each video, we'll be releasing #CharityTuesday blog posts for each of our new Code Club videos. This time, we are covering the amazing success of Code Clubs in Scotland.
Code Club in Scotland
Thanks to Digital Xtra, which provided a grant for the making of this film. Digital Xtra is funded by the Scottish Government's Digital Scotland Business Excellence Partnership. Thanks also to the School of Computing at the University of Dundee for providing the venue for the film!
From the remotest regions to the busiest cities, we've proudly witnessed Code Club's presence grow in bounds across Scotland. "Our remotest clubs are in Shetland and Orkney. There's even one in Barra," explains Lorna Gibson, Code Club's Scotland Coordinator. "The regional flight lands on the beach at low tide: it's so awesome," she adds. Despite the difficulty in accessing some of the furthest regions of the country, nothing will stop people getting through.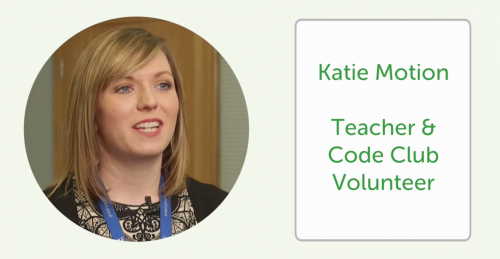 I am not particularly skilled at coding. I didn't have a lot of knowledge myself, but I felt like it was something that I could actually learn along with the children and I wanted to challenge myself.
– Katie Motion
"It is 405 miles from my most northerly club to my most southerly one, and about 215 miles from my most easterly and most westerly," Lorna continues, before detailing the increase in club numbers we've seen over the last few years. "We now have 480 clubs (this has grown from 40-ish since August 2014) and we have clubs in all 32 sub-regions of Scotland."
With such impressive numbers, plus the wonderful stories we hear from volunteers and students, you can see why we're excited about our growing presence in Scotland.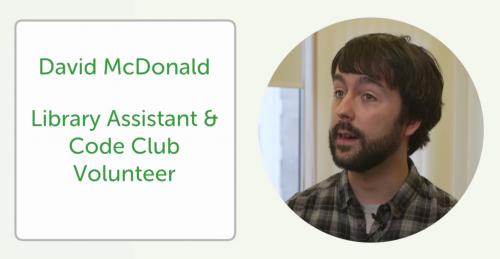 One of the most rewarding things I've seen with Code Club is that there will often be children who come by themselves. They don't know anybody else and they're just as willing to help out people that they don't know.
– David McDonald
Get involved in Code Club!
Code Club is a nationwide network of volunteer-led after-school coding clubs for children. It offers a great place for children of all abilities to learn and build upon their skills amongst like-minded peers.
There are currently over 10,000 active Code Clubs across the world, and official Code Club communities in ten countries. If you want to find out more, visit the Code Club UK website. Please visit Code Club International if you are outside of the UK.