Show-stopping projects for endless entertainment!
This week has been quite the show, all thanks to you and your entertaining performances! Who needs television when we can have more fun watching you bring your amazing ideas to life using code?
It's time for another project showcase, digital makers: get ready for a show you'll be telling all your friends and family about for weeks!
Learning about micro:bit
Guess who's back again with another incredible project?! It's our digital making friend Mustafa (9) from Iraq. For his most recent project, he started working on a robot! Like a true champion, Mustafa embarked on a new journey this week to learn more about robotics and how he can use a micro:bit to make a robot really fast.
Mustafa even told us that he's starting to find the micro:bit easier to use, which means you can do it too. Way to go, Mustafa!!
Story: A story about a centaur's adventures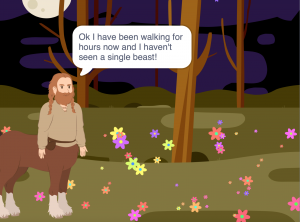 Buckle up for a story full of exciting twists and turns created by our friend Edward (10) from the United Kingdom! Not only did Edward code an original story about a centaur discovering different places and meeting new people, but he also combined it with the 'Mindful meadows' project that we created during our 'Care for yourself' week.
Fun fact: this project is also a work in progress, so whenever you come back to play it again, you might find new features added to it!
Encore! Encore!
These two digital makers shared their projects with us, and now they are entertaining all of us. If you have created a project that you want to others to see, share it with us!
Way to rock the show this week!