Guidelines on setting up and running your own Raspberry Jam
Am I allowed to run a Jam?
Yes! Anyone can run a Raspberry Jam – you don't need our permission, and it can take any form you like.
What do I need to run a Jam?
All you need to run a Jam is a venue, and a date and time. When you've pinned those things down, you can invite people to your Jam!
What kind of venue do I need?
You can hold a Jam anywhere. Some of the bigger Jams are held in huge venues like universities; others are just a few people sitting around a table. We've seen Jams held in lecture theatres, conference centres, schools, cafés, hackspaces, garages, living rooms, libraries and even pubs! Many Jams start small and grow as word spreads.
When should I hold my Jam?
You can hold the event any time – but depending on the intended audience, you may wish to hold it at the weekend, when more people (and more children) will be able to attend.
How long should the event last?
Most Jams run for a few hours. Assuming the venue is available, a Saturday event might go on from 10am to 4pm. But you can make the Jam you plan suit your situation and whatever activities you have planned.
What should happen at my Jam?
That's up to you. You may wish to start with something simple, and see what your attendees want from the event. Some Jams start off with no schedule, just providing a people for space to set up their Pis; and introduce talks or workshops in subsequent sessions. Most Jams which are held regularly run a track of talks alongside alternatives such as space for hacking, workshops or show-and-tell.
See the Featured Jams page for ideas.
Do I need to provide food?
If your event is a few hours long, participants will need to eat (they are human, after all) so you should provide the means for them to get food. You can either provide this yourself, maybe as part of the ticket cost; or just charge individually for food. Food could be covered by sponsors (see below). If your venue is situated close to shops, you may suggest these as an alternative.
If you provide food, be sure to check people's dietary requirements.
What equipment do I need to supply?
Depending on the style of your Jam, you may need to set up Raspberry Pis with mice, keyboards and monitors, or provide projectors or TVs.
If your venue can provide these facilities, then you're lucky! If not, you could provide your own equipment for the day, or ask attendees to bring everything they need. Some community spaces may have monitors, mice and keyboards available, so people will only need to bring Pis and power supplies. You can also ask local businesses whether they're able to help with peripherals – you may be surprised at how keen some organisations are to help with events like this.
Are children allowed at a Jam?
That's up to you. Children should be welcome at Jams as long as the venue is suitable and they are accompanied by their parents (and we think some of the very best Jams are the ones with lots of young people learning new things), but if you're dead set on having a child-free Jam, that's OK. Some Raspberry Pi events are specifically targeted at adults, like Raspberry Pint in London, which is held in a pub.
How do I publicise or promote my Jam?
Use an online service like Eventbrite or Meetup to manage attendees. You could also set up a Twitter account, a mailing list or a website to share information and keep people posted when you announce new events.
Then, importantly, add it to the Raspberry Jam map and calendar so everybody who's looking for a Jam can see your event.
You could also try contacting local programming user groups, hackspaces and schools, and put up posters to promote the Jam to new audiences.
Can I charge money for tickets?
Ideally, Jams are free to attend – this can be possible if the venue is provided for free (ask universities, schools, community spaces or local businesses) and there are few or no other costs involved. If any costs are incurred, you can try to cover this with sponsorship (see below) or by charging a small amount for attendance. Websites like Eventbrite provide a ticketing solution which is popular for Jams, as free and paid tickets can be made available as well as optional donations. If you do need to charge a small fee, try to make tickets free for under-18s, pensioners and students if you can.
How do I get a sponsor?
You can ask around for sponsorship contributions using various means of communication – Twitter, mailing lists, Eventbrite or Meetup. The most likely candidates for providing sponsorship are companies related to Raspberry Pi – those who sell cases, add-on boards and other accessories, and you may also find that local businesses may be interested in sponsorship in return for a shout-out.
You can ask for nominal donations from attendees, or introduce a pay-what-you-want system for tickets. If you're seeking larger donations you might want to provide a sponsorship package to show potential donors how much you need and what they get for that amount.
How do I organise talks?
If you want to run a track of talks (ideally these can be offered as an option alongside space to work on projects or chat to others), you'll need a suitable presentation space with a projector or TV, maybe a microphone and speakers, and seating for the audience. You should try to arrange them beforehand to ensure people are prepared and so you have a schedule for the day.
Alternatively, you could go unconference style and let people propose talks on the day – a good way to do this is create a grid on a wall with time slots and provide Post-it notes for people to add their own talks.
Personal project make for great presentations, but talks teaching skills or concepts, or telling a story, work well too. Make sure everyone is given the chance to present. If you're inviting speakers personally, make sure to offer the opportunity to men, women and children. If you provide an open call for talks, make sure people are not excluded or made uncomfortable presenting.
How do I organise workshops?
If you want to run workshops, these will need to be planned and prepared in advance. You should invite people to offer workshops, and make sure you have all the equipment required and ideally any necessary worksheets or other materials printed or photocopied.
You may need to separately ticket the workshops so people can sign up to the ones they want to attend, so you can limit the number of participants; if a workshop requires costly materials, you might want to think about charging to take part.
I want a Jam in my area, but I don't want to run it!
Ask around on Twitter – see if anyone else in your area is interested. And remember if you do set something up, it doesn't have to be a big event, just find a space to meet and see what happens; starting small can be a good way to meet people near you who might want to help run things.
I want to run a Jam but not on my own!
Ask for help! Find people who are willing to lend their assistance and spread the load. These people don't have to be organisers, they could just help with setting up the room, arranging the schedule, sending the information emails or making the tea!
What logo should I use for my Jam?
You can design your own or use the Raspberry Jam logo: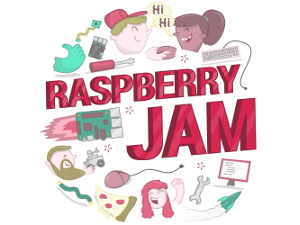 You can download the logo pack from our brand guidelines page. You are not allowed to use the Raspberry Pi logo or derivatives of it, as this is a registered trademark of the Raspberry Pi Foundation.
Do I have to call it "Raspberry Jam"?
No – you can call it whatever you like. Some other examples are "Raspberry Pi User Group", "The Pioneers" "Raspberry Pint" (a meetup for adults, held in a pub).
Just don't call it "Raspberry Pi Jam". That ruins the pun…