Teaching literature with Raspberry Pi
Last week, checking out posts people had made on our Facebook page and the projects they were telling us about, one in particular caught my attention. Sarah Roman, a high school English teacher from New Jersey, had written:
Our English class is going to be using the Raspberry Pi in order to build book-based video games, incorporating Scratch, Sonic Pi, and Python. The students are incredibly excited […]
There was a link to an Indiegogo campaign; we love to see Raspberry Pi used creatively outside of computing lessons, so I clicked on it. A minute of video opened with the title "English Classroom", but it didn't look like my high school English lessons. Students work around computers, ignoring the camera as they concentrate intently on… wait, is that Minecraft?
https://www.youtube.com/watch?v=jaaejhrVAxc
I got in touch with Miss Roman to find out more. She intends (for starters) to get students in her Junior Honors class – that is, 15- and 16-year-olds – building Pi-based games consoles with games that draw on their reading of Dracula by Bram Stoker, and she is raising funds to kit out her classroom with Raspberry Pis and accessories. The students will use Scratch, working collaboratively to create their own graphics, sounds, and housing for the console. Older students will be using the Raspberry Pis in their study of William Faulkner's As I Lay Dying. Of course, these plans are only the beginning of the road for the Pis, both within and beyond Miss Roman's classroom; her project proposal notes that there could be an opportunity to work with other instructors to show them how they might use Raspberry Pi in their teaching.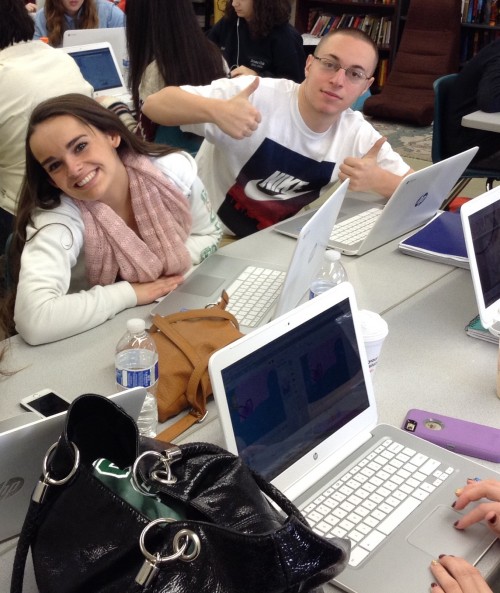 This isn't the first time that Miss Roman has introduced video games to the English Literature classroom. Last year, Juniors reading William Golding's Lord of the Flies worked in groups to build the island where the story is set from the imagery evidence they found in the text, adding significant quotes and moments to it via signposts and books; putting each student group into the same Minecraft world allowed them to explore each other's work. Students were thrilled to use information from the book to build their own islands, and would sigh when the class came to an end. Miss Roman says,
Essentially, the Pi is helping me to integrate fiction and nonfiction, different literacies, and boost creative thinking […] I'm extremely happy with the Pi, and I'm sometimes staggered by the applicability it has for my classroom. I think that complex texts and ideas deserve projects that offer complexity as well, and by opening avenues of this kind for students, they have the ability to understand texts in ways that haven't been previously accessed.
We're excited to learn about Raspberry Pi being used in this way, and we hope that this crowdfunding campaign garners plenty of support – we'd love to hear more from New Jersey as this project takes off!