Raspberry Pi at MozFest 2016
MozFest, or Mozilla Festival, is an annual celebration of the Mozilla community and the wider open internet movement. People from all over the world gather to explore ways of making the internet a resource that's open and inclusive to all. This year MozFest was held at Ravensbourne College in London from Friday 28 – Sunday 29 October.
Colleagues from the Raspberry Pi Foundation joined members of the community to run workshops across two classrooms in the Youth Zone; this meant more space than last year, bringing more opportunities to engage. Our community volunteers were really enthusiastic and varied in ages. Together we ran workshops ranging from Your Code in Space with Astro Pi, to how to create a burping Jelly Baby, to Physical Computing in Scratch and Hacking Minecraft.
One of the workshops I attended was how to create a burping Jelly Baby, run by Bethanie Fentiman (@bfentiman). She led a great session, especially given the technical hitches she encountered during the session: despite all of this, Bethanie and her team of helpers helped me to create a burping Jelly Baby by the end of the workshop. Thank you for all your patience and hard work! You can read Bethanie's laconic take on MozFest in her blog.
All the workshops were well attended by a mix of families, children and teenagers.
Vincent Lee ran a workshop on making a Pi-powered automatic Twitter photo booth. His before and after MozFest blogs have some lovely photos, as well as candid insights into the frantic below-the-surface paddling that happens in order to deliver an event like this one!
MozFest 2016 was a great place to find out what you can do with a Raspberry Pi and discover what other members of the Raspberry Pi community have created. People were really impressed at the workshops run by the young volunteers, such as 11-year-old Elise with her workshop on Spooktacular Sounds with Sonic Pi. A massive thank you to them: it's not easy to teach grown-ups alongside younger people! Elise's MozFest 2016 blog describes her busy, sociable and exciting weekend.
Aoibheann, who ran Beginners' Guide to Scratching Maths with Things from the Kitchen, travelled to MozFest from "the middle of nowhere" in the Republic of Ireland (so middle-of-nowhere, she has dial-up internet at home!). Aoibheann's MozFest blog describes adapting her workshop to accommodate last-minute obstacles and finding that, despite the busy-ness, the Youth Zone was a home from home.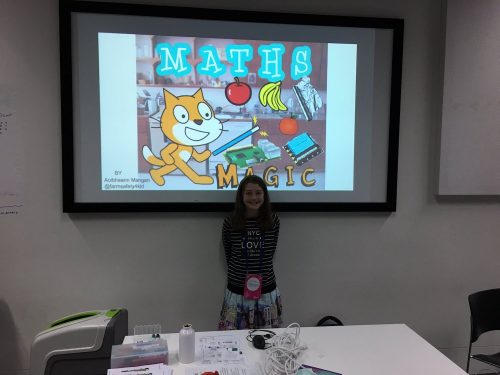 Two very popular workshops at MozFest were LASERS! Create your own jewellery/keyring using a laser cutter and LASERS! Bringing drawings to life! Both were run by Amy Mather, whose enthusiasm for lasers is just one of many things for which she's become well known in the Pi community. Participants learned how to use Raspberry Pis and Inkscape, an open source design program, to create designs which were then sent to the laser cutter to be made. Amy's MozFest 2016 blog is full of fantastic photos of laser-cut works-in-progress and finished products.
A huge thank-you to Joseph Thomas for his help with the laser workshop and for running Castles, code and capacitive buttons: Building castles in Minecraft with touch of a button not once, but twice. Joseph's MozFest 2016 blog explains why, despite ending up with trench foot (really), he'll still be back in 2017.
Cerys Lock for ran a workshop on Displaying Images and Animations on the Sense HAT – thank you, Cerys! Her pre- and post-MozFest blogs have an excellent photo log and an intriguing credits section.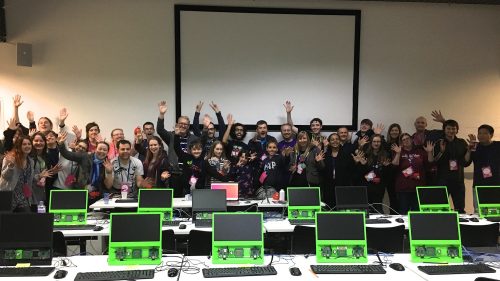 A massive thank you to the amazing team of 45+ volunteers, from the Pi community and beyond, who helped out over the weekend! Without you, Youth Zone simply would not have happened, let alone been the fantastic, creative space for exploration, discovery and excitement that it was. And particular thanks to Dorine Flies and Andrew Mulholland for their ridiculously hard work as Space Wranglers of Youth Zone this year. Andrew's blog on MozFest 2016 describes the months of planning and the many long evenings of work that go into the Youth Zone, and he's drawn together wonderful highlights from the weekend.
Having just joined the Raspberry Pi Foundation, I went to MozFest to get a taste of Raspberry Pi activities before I begin helping to organise other events in the future. I was incredibly impressed with the skill and patience of all the volunteers and their ability to teach me things that seemed very complicated at first. I'm really looking forward to getting to know the community better, as I work with the Raspberry Pi to deliver events that I hope will have just as much energy and passion as MozFest.