Picademy – Free CPD for Teachers
**Update 28 March: Entries are now closed. Thanks to everyone who applied, you'll be hearing from us very soon.**
I am very pleased to announce the first ever Raspberry Pi Academy for Educators!
The Raspberry Picademy will be a free professional development experience for primary and secondary teachers, initially for those here in the UK. Over the course of two days, (14th – 15th April 2014), 24 applicants will get hands-on experience here at Pi Towers, and discover the many ways in which the Raspberry Pi can be used in the classroom, working with our team of experts.
We will be looking to select 24 teachers for this program who meet our criteria and demonstrate a passion for education and for sharing practice, whatever their level of computing experience. In particular we are looking for teachers who:
can demonstrate experience of leading inset training sessions or running workshops – we would like our teachers to be able to train others
can reach large numbers of educators – through Twitter, teachmeets, blog posts, jams, CAS hubs etc. to spread the love
can demonstrate experience in using technology in the classroom – does not have to be Raspberry Pi!
are positive role models to young people
love challenges and overcoming problems.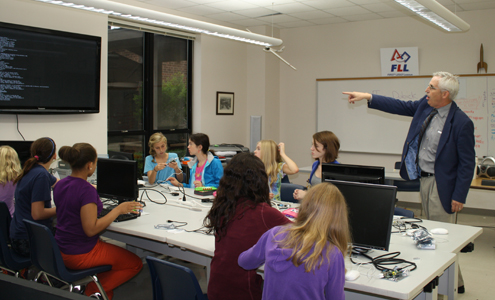 We want to build a wider community of pioneering educators through this program, and it would make us all really happy if after the two day event, they go on to:
create a scheme of work for the Raspberry Pi Educational Resources section of our new website (coming soon!) that meets the new Computing curriculum programme of study
have a positive impact on their community with Raspberry Pi
take an active role in the Raspberry Pi Education Forum to help inspire others.
As well as training, educators will have access to a forum to share ideas, get some Raspberry Pi goodies and a special badge.
If you think you might be one of our superteachers, then you can apply by filling out this application form. Please note that although this training is provided free of charge and we will provide your meals, you will have to make your own transport and accommodation plans (we'll be making information about where you can stay and how to get here available to the people who take part). The deadline for applications is Friday 28th March.