Picademy 3. A report of some note: and how you can be at Picademy 4
On Monday and Tuesday this week we ran our third Picademy – two days of free teacher training (aka CPD – it really is free, and there aren't any catches) – and it was better than ever.
We make Picademy available to attend for free: it's part of our charitable mission. Teachers of all subjects – not just computing – who want to incorporate computing and electronics into their classroom, are given two days of what we think is some of the best CPD in the world. But don't take our word for it – if you're interested in applying for a place on the September course (you should), here's what the Picademy 3 cohort had to say via Twitter:
Best two days of work based stuff EVER! Cannot recommend Picademy enough.
Picademy was amazing, superb CPD, networking, hands on projects, expert support when needed.
Thank you … for the best CPD, hospitality and the wonderful things we learnt.
Best goody bag ever! I feel like I've been to a party. Can't wait for tomorrow's session! I am buzzing from Picademy! Thank you to everyone for making it such an awesome experience.
Thanks … for an excellent #picademy. Great networking and workshops! Very inspiring!
I particularly liked the bit where Clive scooted around in a Little Tikes car shouting 'Hodor!' to himself.
All of these are completely not made up. Except one.
Lucky bags
Lots of the attendees arrived the night before and stayed in the same hotel, and it's great to see the social side of Picademy. As well as encouraging collaboration and team work over the two days, it helps maintain the community and network of Raspberry Pi Certified Educators afterwards.
There's always a great buzz in the Pi Towers classroom when the group first arrives and opens up their goody bags. (These bags have been certified by independent adjudicators Bag of Tricks Inc to be the best goody bags in the whole world.) But this time we had an ace up our sleeve (and B in our bonnet). Late on the previous Friday, Eben issued the command to replace the Raspberry Pi model Bs in the bags with the as yet unreleased B+. There was much rejoicing! And this is why, one hour after the new model was announced, the good people of Picademy 3 were some of the first in the world to own and use the new model.
Day 1: filling brains with the good stuff
The first day is all about gaining experience and confidence. Workshops on Sonic Pi; physical computing; programming in Minecraft; and the Pi camera board show what can be achieved if you're willing to have a go and to think differently, and this cohort did not disappoint. I overheard lots of comments like, "This would be perfect in the classroom…", "The kids will love this…" and "YES! IT WORKS!" It's an intensive but satisfying day. Teachers who had never used a Pi before were programming in Python, coding music and making LED traffic lights in Scratch. All of these new skills were preparation for the second day, or The Awesome Day of Messing About with Cool Stuff as we like to call it.
Dinner is really interesting. It's a chance for the group to relax and chat, and to process and sort the vast amount of information that they've crammed into their heads during the day. So it's an important part of the course, where ideas are shared and people start to talk about what they were going to make tomorrow. You could already see some of the projects taking shape. It's an essential and productive hiatus, like letting meat rest after a blast in the oven or outgassing near the surface of the sea after a long dive. (I have just won a bet that I couldn't mix cooking and diving metaphors in one sentence. Yes, Pulitzer Board: who's laughing now?)
Day 2: TADOMAWCS
On day 2 everyone split into groups, had a nice cup of tea, did a little happy dance of creativity and then made stuff. This is the favourite day for both the attendees and the education team. There's no pressure to produce a specific product and everyone gets to work at their own pace and in their own comfort zone. The day is about building skills and confidence, and about sharing good practice.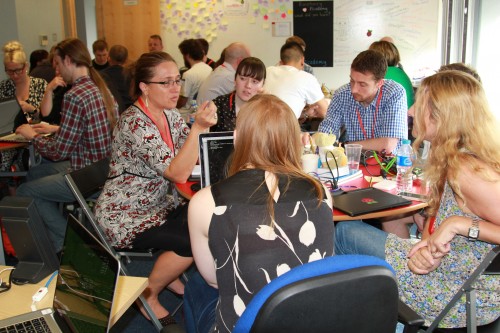 What I particularly enjoyed this week was watching and helping those teams that kept plugging away at problems, debugging software and troubleshooting hardware, until it worked (or nearly worked!) This problem solving, creativity and perseverance is at the heart of computing in the classroom and is what makes it special. We also had inspiring talks from Eben Upton, Lance Howarth and Rachel Rayns (Google them—it's not as if they are called John Smith or nuffin'!)
There were some fantastic projects. Twitter-enabled projects were well represented, perhaps because many of the group were keen social media users, and this type of project has a huge appeal to students. One team wanted to do some robotics, so we scavenged an old robot and they repurposed it using a Pibrella—cheap and cheerful but with huge learning potential. We'll be getting in a variety of motor boards and roboty things for future Picademies. We like robots.
This cohort has already impressed us with their continued collaboration and engagement via Twitter, our forums and their blogs. We know that some of them have gone back to school and are already changing things for the better, for instance by running CPD events, writing resources and setting up their classrooms to teach computing effectively. Thanks to you all for coming, you have earned your Raspberry Pi Certified Educator badges!
Picademy 4 applications now open
So it was a fantastic couple of days again and although it's tiring for the RasPi education team at the time we never get tired of doing it. The next Picademy is in September 2014 where you are guaranteed free, world class CPD; expert support; essential skills and practical ideas to take back to your classroom. And lots of fun. (We also guarantee that you will not get: encyclopaedic PowerPoint printouts; curly, mild cheddar butties; tedious talks; or role play (well, perhaps a tiny bit of the latter. It's the CPD law.)
Picademy 4 will look favourably on applications from teachers in the South West of England. We're very aware of regional accessibility to training and support, and so occasionally we will focus on specific regions. So if you are a teacher in the South West, we would love to have you here. This does not mean applications are open to teachers in the South West only! Please apply wherever you are.
I cannot believe that you are still here reading my brain-drool. Apply now – and good luck!