Laser Cookies: a YouTube collaboration
Lasers! Cookies! Raspberry Pi! We're buzzing with excitement about sharing our latest YouTube video with you, which comes directly from the kitchen of maker Estefannie Explains It All!
Estefannie Explains It All + Raspberry Pi
When Estefannie visited Pi Towers earlier this year, we introduced her to the Raspberry Pi Digital Curriculum and the free resources on our website. We'd already chatted to her via email about the idea of creating a collab video for the Raspberry Pi channel. Once she'd met members of the Raspberry Pi Foundation team and listened to them wax lyrical about the work we do here, she was even more keen to collaborate with us.
Ahhhh!!! I still can't believe I got to hang out and make stuff at the @Raspberry_Pi towers!! Thank you thank you!! pic.twitter.com/5gvk7BO1Dr

— estefannie (@estefanniegg) May 22, 2017
Estefannie returned to the US filled with inspiration for a video for our channel, and we're so pleased with how awesome her final result is. The video is a super addition to our Raspberry Pi YouTube channel, it shows what our resources can help you achieve, and it's great fun. You might also have noticed that the project fits in perfectly with this season's Pioneers challenge. A win all around!
So yeah, we're really chuffed about this video, and we hope you all like it too!
Estefannie's Laser Cookies guide
For those of you wanting to try your hand at building your own Cookie Jar Laser Surveillance Security System, Estefannie has provided a complete guide to talk you through it. Here she goes:
First off, you'll need:
10 lasers
10 photoresistors
10 capacitors
1 Raspberry Pi Zero W
1 buzzer
1 Raspberry Pi Camera Module
12 ft PVC pipes + 4 corners
1 acrylic panel
1 battery pack
8 zip ties
tons of cookies
I used the Raspberry Pi Foundation's Laser trip wire and the Tweeting Babbage resources to get one laser working and to set up the camera and Twitter API. This took me less than an hour, and it was easy, breezy, beautiful, Raspberry Pi.
I soldered ten lasers in parallel and connected ten photoresistors to their own GPIO pins. I didn't wire them up in series because of sensitivity reasons and to make debugging easier.
Building the frame took a few tries: I actually started with a wood frame, then tried a clear case, and finally realized the best and cleaner solution would be pipes. All the wires go inside the pipes and come out in a small window on the top to wire up to the Zero W.
Using pipes also made the build cheaper, since they were about $3 for 12 ft. Wiring inside the pipes was tricky, and to finish the circuit, I soldered some of the wires after they were already in the pipes.
I tried glueing the lasers to the frame, but the lasers melted the glue and became decalibrated. Next I tried tape, and then I found picture mounting putty. The putty worked perfectly — it was easy to mold a putty base for the lasers and to calibrate and re-calibrate them if needed. Moreover, the lasers stayed in place no matter how hot they got.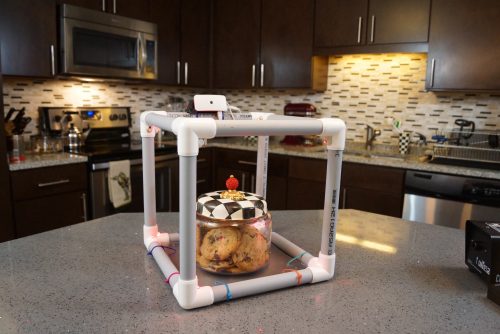 Although the lasers were not very strong, I still strained my eyes after long hours of calibrating — hence the sunglasses! Working indoors with lasers, sunglasses, and code was weird. But now I can say I've done that…in my kitchen.
Using all the knowledge I have shared, this project should take a couple of hours. The code you need lives on my GitHub!
Estefannie on YouTube
Estefannie made this video for us as a gift, and we're so grateful for the time and effort she put into it! If you enjoyed it and would like to also show your gratitude, subscribe to her channel on YouTube and follow her on Instagram and Twitter. And if you make something similar, or build anything with our free resources, make sure to share it with us in the comments below or via our social media channels.