Diversity and inclusion in computing education — new research seminars
At the Raspberry Pi Foundation, we host a free online research seminar once a month to explore a wide variety of topics in the area of digital and computing education. This year, we've hosted eleven seminars — you can (re)discover slides and recordings on our website.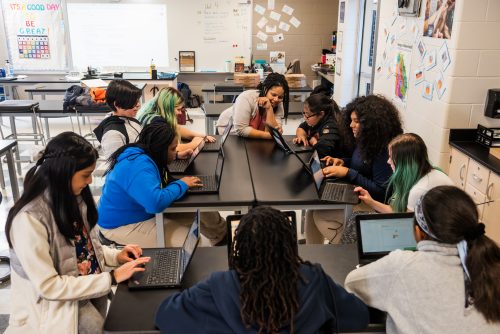 Now we're getting ready for new seminars in 2021! In the coming months, our seminars are going to focus on diversity and inclusion in computing education. This topic is extremely important, as we want to make sure that computing is accessible to all, that we understand how to actively remove barriers to participation for learners, and that we understand how to teach computing in an inclusive way.
We are delighted to announce that these seminars focusing on diversity and inclusion will be co-hosted by the Royal Academy of Engineering. The Royal Academy of Engineering is harnessing the power of engineering to build a sustainable society and an inclusive economy that works for everyone.

We're very excited to be partnering with the Academy because of our shared interest in ensuring that computing and engineering are inclusive and accessible to all.
Our upcoming seminars
The seminars take place on the first Tuesday of the month at 17:00–18:30 GMT / 12:00–13:30 EST / 9:00–10:30 PST / 18:00–19:30 CET.
5 January 2021: Dr Peter Kemp (King's College London) and Dr Billy Wong (University of Reading) will be looking at computing education in England, particularly GCSE computer science, and how it is accessed by groups typically underrepresented in computing.
2 February 2021: Professor Tia Madkins (University of Texas at Austin), Dr Nicol R. Howard (University of Redlands), and Shomari Jones (Bellevue School District) will be talking about equity-focused teaching in K–12 computer science. Find out more.
2 March 2021: Dr Jakita O. Thomas (Auburn University, Alabama) will be talking about her research on supporting computational algorithmic thinking in the context of intersectional computing.
April 2021: event to be confirmed
4 May 2021: Dr Cecily Morrison (Microsoft Research) will be speaking about her work on physical programming for people with visual impairments.
Join the seminars
We'd love to welcome you to these seminars so we can learn and discuss together. To get access, simply sign up with your name and email address.
Once you've signed up, we'll email you the seminar meeting link and instructions for joining. If you attended our seminars in the past, the link remains the same.