Carrie Anne Philbin's Adventures in Raspberry Pi
We are huge, giant, enormous fans of Carrie Anne Philbin. Carrie Anne's a pioneering computing teacher, whose Geek Gurl Diaries YouTube series we can't say enough good things about. (If you haven't checked it out yet, please do when you've finished reading this post.)
Carrie Anne has been busy this year: as well as working full-time as a teacher and producing Geek Gurl Diaries, she's created a scheme of work for Sonic Pi; she's been active on the Government's Computing expert panel which reviews the new Computing curriculum in the UK; and she's working as vice-chair of #include for Computing at School. She won Talk Talk's London Digital Hero award, and somehow she's also fitted in the time to write what we think is hands down the best Raspberry Pi book for young people we've seen yet.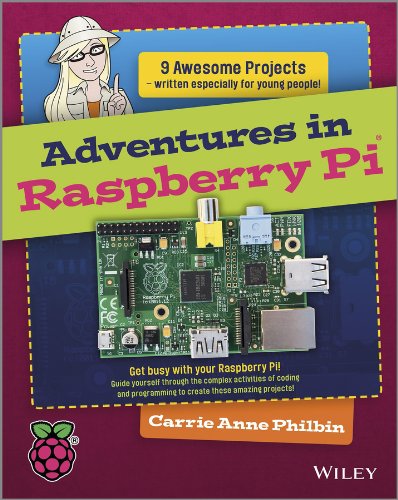 Carrie Anne says that this book is for any young person who's interested in making things happen using computing. Inside, you'll find nine projects (alongside stickers, achievements and more), which will take you from a standing start to a point where you'll be breezing through projects like writing your first programs, shaping the Minecraft universe using Minecraft Pi, designing and building your own role-playing game, writing and playing your own music…and making electronic switches out of marshmallows.
It's a beautifully produced book, full of ideas and clear direction, with a real sense of Carrie Anne's personality jumping off every page. These projects come out of real activities Carrie Anne has worked through with real kids; they're tried and tested – and they're fun, too. You'll find hints and tips to help you along the way. There's plenty of extra material online to supplement the book, along with lots of recommendations for further reading.
Adventures in Raspberry Pi is aimed at 11-15-year-olds, but younger kids whose parents have time for a little supervision (if you're one of those parents, you won't need any programming experience, because Carrie Anne's done that work for you) will also find it a tidy fit.
We're really excited about this book. You can find it on Amazon for preorder at a discount price at the moment, for release on December 5, but if you can't wait that long, we already have copies available here at the Raspberry Pi Swag Store (full price, I'm afraid – but every purchase you make goes to support our charitable work in computing education). I'm buying a few copies for kids I know for Christmas. I hope you will too.