15,000 Raspberry Pis for UK schools – thanks Google!
Today's been a bit unlike most Tuesdays at the Raspberry Pi Foundation. Today we're the recipients of a very generous grant from Google Giving, which will provide 15,000 Raspberry Pi Model Bs for schoolkids around the UK. Google's Executive Chairman, Eric Schmidt, has just been to visit Cambridge, and he and Eben have been teaching a classroom of local kids to code all morning. Lucky kids.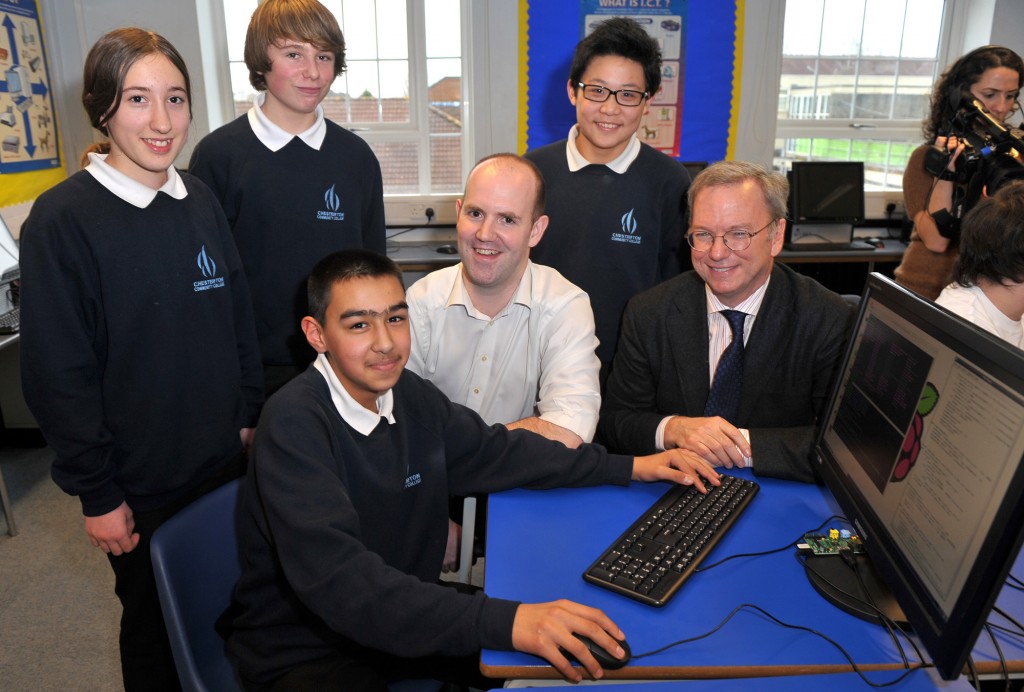 (Usually on Tuesday mornings we eat biscuits and do engineering. This is a bit of a change of pace.)
We're going to be working with Google and six UK educational partners to find the kids who we think will benefit from having their very own Raspberry Pi. CoderDojo, Code Club, Computing at Schools, Generating Genius, Teach First and OCR will each be helping us identify those kids, and will also be helping us work with them. You'll already have seen the Raspberry Pi teaching materials from Computing at Schools; OCR will also be creating 15,000 free teaching and learning packs to go with the Raspberry Pis.
We're absolutely made up over the news; this is a brilliant way for us to find kids all over the country whose aptitude for computing can now be explored properly. We believe that access to tools is a fundamental necessity in finding out who you are and what you're good at. We want those tools to be within everybody's grasp, right from the start.
The really good sign is that industry has a visible commitment now to trying to solve the problem of CS education in the UK. Grants like this show us that companies like Google aren't prepared to wait for government or someone else to fix the problems we're all discussing, but want to help tackle them themselves. We're incredibly grateful for their help in something that we, like them, think is of vital importance. We think they deserve an enormous amount of credit for helping some of our future engineers and scientists find a way to a career they're going to love.