Making it move to the beat of your own drum!
Ready…Set…we're on the go this week and making it move in ways that we didn't know we could before! It's all thanks to you, digital makers, being the most creative as you turn things upside-down, right-side up, and more! You truly inspire us every week to discover new things!
Speaking of new discoveries, we recently found three projects, including one from a familiar face from our Digital Making at Home team, that we think you'll love to read about. And of course, they're all about making it move!
A wheelchair controlled by eye movements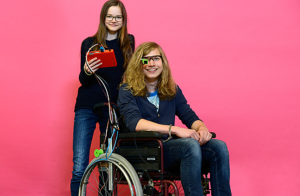 Meet Myjiram (14) and Paul (15) from Germany who made a control system that allows them to use eye movements to make a wheelchair move. Talk about impressive, right? Using a number of different hardware such as a Raspberry Pi and an Arduino, they were able to take this project to a competition in Germany and win! Check out their story to learn more about their journey.
Code a Frogger-style road-crossing game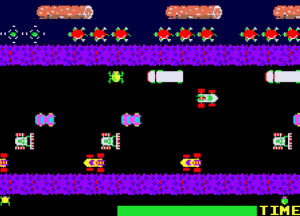 Leap into last November's issue #27 of Wireframe, one of our many publications, to learn how to make your own Frogger-style game! If you've never heard of Frogger before, the whole idea around the game is that you control a frog that needs to dodge traffic to cross the street. And it's so much fun! You can download a PDF of the magazine for free and get things moving with your own creation!
Matt Richardson and the world's smartest bike light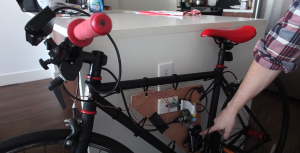 Recognize that name? It's Matt, one of our team Digital Making at Home team members that you've seen in our welcome videos! A few years ago he took on the challenge of tricking out his bicycle with a headlight that doubles as a projector to show how fast he's going while he's riding around. Sounds amazing, right? Take a look at it for yourself!
Way to move it!
We're getting closer to the end of this week, but there's still plenty of time for you to share what you've made. Don't stop moving, digital makers!