Picademy FAQs
What is Picademy?
Picademy is a two-day course that allows educators to experience what can be achieved with a little help and lots of imagination. Through a series of workshops on Day 1, we introduce a range of engaging ways to deliver computing lessons in classrooms all over the world. Highlights include using physical computing to control electronic components like LEDs and buttons, coding music with Sonic Pi, and terraforming the world of Minecraft. On Day 2, attendees have the opportunity to apply their learning by developing their own project ideas, learning from each other and our experts.
Each cohort that attends is a mix of primary, secondary, and post-16 educators, representing many different subject areas. One of our aims is to create leaders in education who are equipped with skills to train others in their community. Attending our training is the first step on that journey.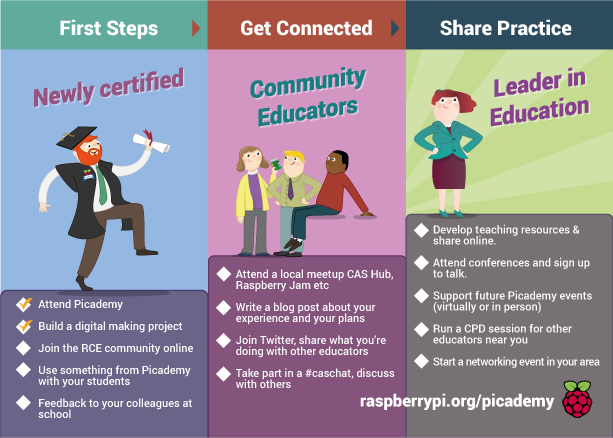 When are you bringing Picademy to [insert name of place here]?
We are currently focusing on running Picademy events in the UK and USA, and don't have plans to run the programme in other parts of the world. We'd love to be able to do it, but we just don't have the capacity. However, we do support our global community of educators through our online training courses.
I'm not a teacher, but I want to learn about Raspberry Pi. Can I attend?
Picademy is designed for teachers. The aim is to equip them with the best possible pedagogy, strategies, tools, and ideas to bring digital making into the classroom. It's also about building a community of educators who can support each other and grow the movement.
It's not a 'How to use a Raspberry Pi' course. There are lots of websites and video channels that are already doing a fantastic job in that space. See our Community page for a small selection of these, and have a look at our online resources.
We know that there are lots of people who aren't formally trained as teachers and still help young people learn about computing and digital making, and we're working hard to support them. For example, we have a huge programme of training for Code Club volunteers, and our online training courses are available for everyone.
For Picademy, our priority is to support the people at the chalkface, where access to professional development is problematic, and up-skilling in digital making is needed most.
We have accepted applications from people in other roles, like teaching assistants and librarians, who work with children every day in schools or other community settings, but the vast majority of participants have been qualified serving teachers.
If you want to learn about Raspberry Pi, one of the best places to start is a Raspberry Jam. There are now hundreds of Jams happening regularly around the world. These are community events run by brilliantly talented volunteers, and bring together people of all ages to learn about digital making.
Can I have access to the course materials?
All our Picademy sessions are based on resources that are available for free on our website. Some of them are:
Our focus is on collaboration, making, project-based learning, and computing – similar to most Raspberry Jams, in fact. If you are super-interested in STEAM, project-based learning, and digital making (the pillars of Picademy), then we recommend the following reading as a starting point:
Who can I speak to about Picademy?
Both US and UK training teams pick up emails at picademy@raspberrypi.org.