Picademy FAQs
What is Picademy?
Picademy is a two-day training that engages educators in digital making. Participants are introduced to a range of computing activities on day one. Highlights include: using physical computing to control components like LEDs, buttons, motors, cameras, and sensors as well as coding live music with Sonic Pi. On day two, attendees apply their learning by creating and presenting their own digital makingprojects.
Each cohort that attends is a mix of educators representing many different subject areas. Our aim is to create leaders in education who are equipped with skills to train others in their community.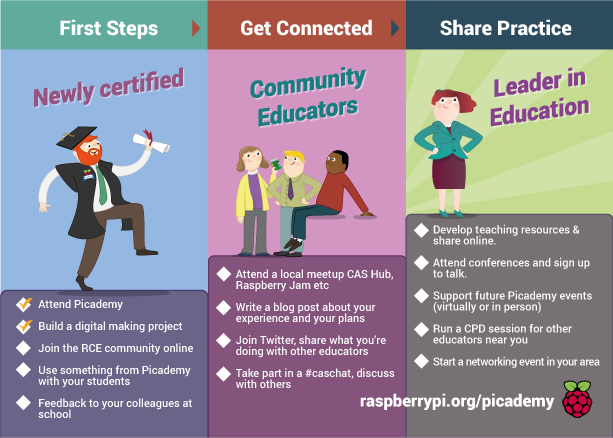 When are you bringing Picademy to my hometown?
We currently offer Picademy in the UK and North America, and don't yet have plans to run the programme in other parts of the world. We support our global community of educators through our online training courses.
Who can attend a Picademy?
Picademy is designed to provide educators of all types with the best possible pedagogy, strategies, tools, and ideas to engage their learners in digital making. By educators, we mean anyone who helps young people learn about computing and digital making. This includes, but isn't limited to:
Classroom Teachers
Librarians
Code Club Volunteers
Coderdojo Mentors
Museum Staff
Teacher trainers
Picademy is about building an educator community who can support each other and grow the movement.
We are looking for people who:
Are working with young people in an educational setting
Are passionate about digital making and are interested in making physical things and controlling them with computers
Are interested in joining a global community of educators to share opportunities, experiences, and resources in the world of digital making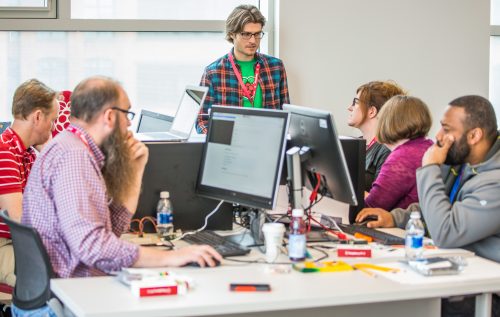 Can I have access to the course materials?
All our Picademy sessions are based on resources that are available for free on our website. Some of them are:
Our focus is on collaboration, making, and computing. If you are passionate about STEAM subjects, project-based learning, and digital making (the pillars of Picademy), then we recommend the following reading as a starting point:
What if I can't make it to a Picademy?
If you can't make any of our live events, it's worth looking in to our free online training courses instead.
Who can I speak to about Picademy?
Both the North America and UK training teams can be contacted at [email protected].