Working with the Scout Association on digital skills for life
Today we're launching a new partnership between the Scouts and the Raspberry Pi Foundation that will help tens of thousands of young people learn crucial digital skills for life. In this blog post, I want to explain what we've got planned, why it matters, and how you can get involved.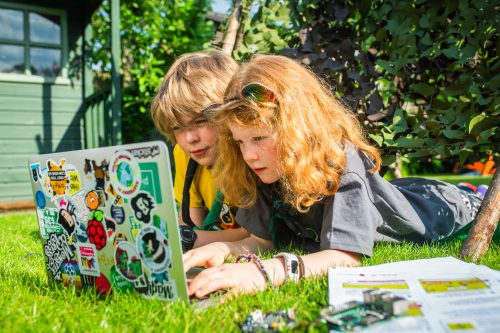 This is personal
First, let me tell you why this partnership matters to me. As a child growing up in North Wales in the 1980s, Scouting changed my life. My time with 2nd Rhyl provided me with countless opportunities to grow and develop new skills. It taught me about teamwork and community in ways that continue to shape my decisions today.
As my own kids (now seven and ten) have joined Scouting, I've seen the same opportunities opening up for them, and like so many parents, I've come back to the movement as a volunteer to support their local section. So this is deeply personal for me, and the same is true for many of my colleagues at the Raspberry Pi Foundation who in different ways have been part of the Scouting movement.
That shouldn't come as a surprise. Scouting and Raspberry Pi share many of the same values. We are both community-led movements that aim to help young people develop the skills they need for life. We are both powered by an amazing army of volunteers who give their time to support that mission. We both care about inclusiveness, and pride ourselves on combining fun with learning by doing.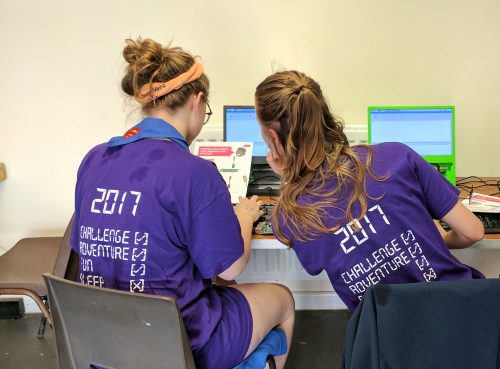 Raspberry Pi
Raspberry Pi started life in 2008 as a response to the problem that too many young people were growing up without the skills to create with technology. Our goal is that everyone should be able to harness the power of computing and digital technologies, for work, to solve problems that matter to them, and to express themselves creatively.
In 2012 we launched our first product, the world's first $35 computer. Just six years on, we have sold over 20 million Raspberry Pi computers and helped kickstart a global movement for digital skills.
The Raspberry Pi Foundation now runs the world's largest network of volunteer-led computing clubs (Code Clubs and CoderDojos), and creates free educational resources that are used by millions of young people all over the world to learn how to create with digital technologies. And lots of what we are able to achieve is because of partnerships with fantastic organisations that share our goals. For example, through our partnership with the European Space Agency, thousands of young people have written code that has run on two Raspberry Pi computers that Tim Peake took to the International Space Station as part of his Mission Principia.
Digital makers
Today we're launching the new Digital Maker Staged Activity Badge to help tens of thousands of young people learn how to create with technology through Scouting. Over the past few months, we've been working with the Scouts all over the UK to develop and test the new badge requirements, along with guidance, project ideas, and resources that really make them work for Scouting. We know that we need to get two things right: relevance and accessibility.
Relevance is all about making sure that the activities and resources we provide are a really good fit for Scouting and Scouting's mission to equip young people with skills for life. From the digital compass to nature cameras and the reinvented wide game, we've had a lot of fun thinking about ways we can bring to life the crucial role that digital technologies can play in the outdoors and adventure.
We also know that there are great opportunities for Scouts to use digital technologies to solve social problems in their communities, reflecting the movement's commitment to social action. Today we're launching the first set of project ideas and resources, with many more to follow over the coming weeks and months.
Accessibility is about providing every Scout leader with the confidence, support, and kit to enable them to offer the Digital Maker Staged Activity Badge to their young people. A lot of work and care has gone into designing activities that require very little equipment: for example, activities at Stages 1 and 2 can be completed with a laptop without access to the internet. For the activities that do require kit, we will be working with Scout Stores and districts to make low-cost kit available to buy or loan.
We're producing accessible instructions, worksheets, and videos to help leaders run sessions with confidence, and we'll also be planning training for leaders. We will work with our network of Code Clubs and CoderDojos to connect them with local sections to organise joint activities, bringing both kit and expertise along with them.
Get involved
Today's launch is just the start. We'll be developing our partnership over the next few years, and we can't wait for you to join us in getting more young people making things with technology.
Take a look at the brand-new Raspberry Pi resources designed especially for Scouts, to get young people making and creating right away.