Take part in the UK Bebras Challenge 2023 for schools
The UK Bebras Challenge is back and ready to accept entries from schools for its annual event, which runs from 6 to 17 November.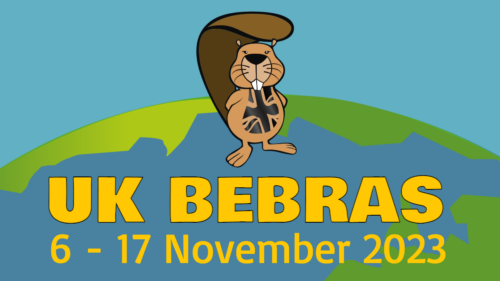 More than 3 million students from 59 countries took part in the Bebras Computational Thinking Challenge in 2022. In the UK alone, over 365,000 students participated. Read on to find out how you can get your school involved.
"This is now an annual event for our Year 5 and 6 students, and one of the things I actually love about it is the results are not always what you might predict. There are children who have a clear aptitude for these puzzles who find this is their opportunity to shine!"

– Claire Rawlinson, Primary Teacher, Lancashire
What is the Bebras Challenge?
Bebras is a free, annual challenge that helps schools introduce computational thinking to their students. No programming is involved, and it's completely free for schools to enter. All Bebras questions are self-marking.
We're making Bebras accessible by offering age-appropriate challenges for different school levels and a challenge tailored for visually impaired students. Schools can enter students from age 6 to 18 and know they'll get interesting and challenging (but not too challenging) activities. 
Students aged 10 to 18 who do particularly well will get invited to the Oxford University Computing Challenge (OUCC).
What is the thinking behind Bebras?
We want young people to get excited about computing. Through Bebras, they will learn about computational and logical thinking by answering questions and solving problems.
Bebras questions are based on classic computing problems and are presented in a friendly, age-appropriate way. For example, an algorithm-based puzzle for learners aged 6 to 8 is presented in terms of a hungry tortoise finding an efficient eating path across a lawn; for 16- to 18-year-olds, a difficult problem based on graph theory asks students to sort out quiz teams by linking quizzers who know each other.
"This has been a really positive experience. Thank you. Shared results with Head and Head of Key Stage 3. Really useful for me when assessing Key Stage 4 options."

– Secondary teacher, North Yorkshire
Can you solve our example Bebras puzzle?
Here's a Bebras question for the Castors category (ages 8 to 10) from 2021. You will find the answer at the end of this blog. 
Cleaning
A robot picks up litter.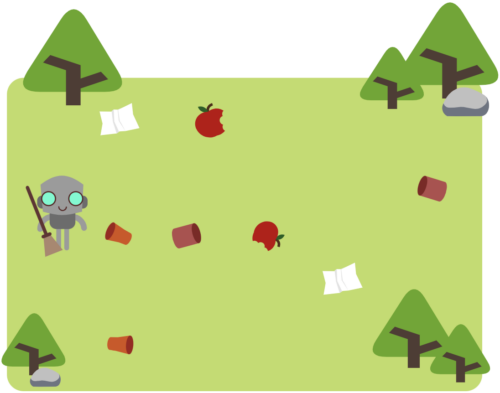 The robot moves to the closest piece of litter and picks it up.
It then moves to the next closest piece of litter and picks it up.
It carries on in this way until all the litter has been picked up.
Question: Which kind of litter will the robot pick up last?

How do I get my school involved in Bebras?
The Bebras challenge for UK schools takes place from 6 to 17 November. Register at bebras.uk/admin to get free access to the challenge.
By registering, you also get access to the Bebras back catalogue of questions, from which you can build your own quizzes to use in your school at any time during the year. All the quizzes are self-marking, and you can download your students' results for your mark book. Schools have reported using these questions for end-of-term activities, lesson starters, and schemes of lessons about computational thinking.
---
Puzzle answer
The answer to the example puzzle is: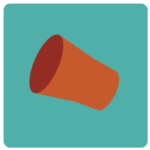 The image below shows the route the robot takes by following the instructions: