The Code Club International movement
Over the past few years, Code Club has made strides toward world domination! There are now more than 10,000 Code Clubs running in 125 countries. More than 140,000 kids have taken part in our clubs in places as diverse as the northernmost tip of Canada and the favelas of Rio de Janeiro.
In the first video from our Code Club International network, we find out about Code Clubs around the world from the people supporting these communities.
Global communities
Code Club currently has official local partners in twelve countries. Our passionate and motivated partner organisations are responsible for championing their countries' Code Clubs. In March we brought the partners together for the first time, and they shared what it means to be part of the Code Club community:
Of course, Code Clubs aren't restricted to countries with official partner communities – they can be started anywhere in the world! Code Clubs are up and running in a number of unexpected places, from Kosovo to Kazakhstan.
The geographical spread of Code Clubs means we hear of clubs overcoming a range of different challenges. One club in Zambia, run by volunteer Mwiza Simbeye, started as a way to get kids off the streets of Lusaka and teach them useful skills. Many children attending had hardly used a computer before writing their first line of code at the club. And it's making a difference! As Mwiza told us, 'you only need to see the light shine in the eyes of [Code Club] participants to see how much they enjoy these sessions.'
In the Nunavut region of Canada, Talia Metuq was first introduced to coding at a Code Club. In an area comprised of 25 Inuit communities that are inaccessible via roads and currently combating severe social and economic deprivation, computer science was not on the school timetable. Code Club, along with club volunteer Ryan Oliver, is starting to change that. After graduating from Code Club, Talia went on to study 3D modelling in Vancouver. She has now returned to Nunavut and is helping inspire more children to pursue digital making.
Start a Code Club
Code Clubs are volunteer-led extra-curricular coding clubs for children age 9 to 13. Children that attend learn to code games, animations, and websites using the projects we provide. Working with volunteers and with other children in their club, they grow their digital skillset.
You can run a Code Club anywhere if you have a venue, volunteers, and kids ready to learn coding. Help us achieve our goal of having a Code Club in every community in the world!
To find out how to start a Code Club outside of the UK, you can visit the Code Club International website. If you are in the UK, head to the Code Club UK website for more information.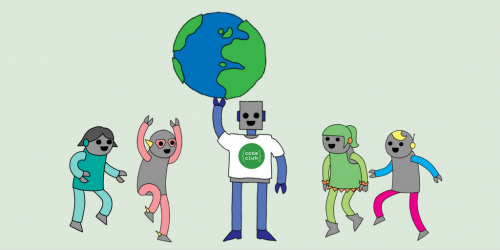 Help the Code Club International community grow
On the Code Club site, we currently have projects in 28 languages, allowing more young people than ever to learn programming in their native language. But that's not enough! We are always on the lookout for volunteers to translate projects and resources. If you are proficient in translating from English and would like to help, please visit the website to find out more.
We are also looking for official local partners in Italy and Germany to join our international network – if you know of, or are a part of an enthusiastic non-profit organisation who might be interested to join us, you can learn more here.