Let's code to stay happy and healthy!
As you know, digital makers, if you are happy and healthy, then you can also take care of your friends, family, and community. That's why it's important that you look after yourself. So for this whole month, we're inviting you to code projects that help you feel good, physically and mentally.
Get ready for a month FULL of coding for wellness!
Live stream news!
Stay relaxed by coding along with Mr C and a special guest this Wednesday on our live stream at its new time: 5.30pm BST / 12.30pm EDT / 10.00pm IST. You'll get to create a beautiful butterfly garden in Scratch!
Get coding now with our new projects!
September is our celebration of wellness, which includes mental health, physical health, and learning new things! So let's spend this month using the power of digital making to create new ways to be mindful of our health.
The all-new set of 'Look after yourself' project guides, which we'll be sharing throughout September, will give you inspiration for wellness coding projects. And the best thing about them? Even if you've never, ever coded before, this set of project guides will take you from complete beginner to confident Scratch coder. Let's get started!
Squeeze the stress away
Code digital stress balls in Scratch that you can squeeze so they make a noise, to help you relieve the stresses of the day. Marc, Jimi, and six-year-old Noah show you how to create this project, which is based on our all-new 'Stress ball' project guide.
Butterflies in the garden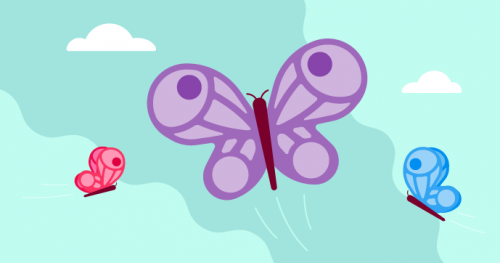 Use Scratch to create a relaxing garden filled with fluttering butterflies. Follow our all-new 'Butterfly garden' project guide to code this project.
Grow trees using code
Code a Scratch game where you sit back and stay still and peaceful to allow a tree to grow. Follow our all-new 'Grow a tree' project guide to code this project.
Show us how you look after yourself!
Sometimes taking care of yourself requires the help of others, because everyone can share their own ways to keep happy and healthy. That's why, if you're comfortable doing so, it is important to share the project you create — your project for wellness could really help somebody in our global community.
Happy coding, digital makers!
---
PS Individuals and organisations all over the world contribute to make it possible for us to create free-to-access content for you FOREVER. Visit our donation page today to learn how you can support the work that we do too.