An all-new live stream for our USA friends!
Weekly live stream code-along sessions are coming to a USA-friendly time zone near you!
For the next four weeks, Digital Making at Home will bring you NEW weekly live stream code-along sessions at USA-friendly times.
Follow along with Christina in Nebraska every Thursday at 3.30pm PDT / 4:30 MDT / 5.30 CDT / 6.30 EDT at rpf.io/home for digital making magic with Scratch!
And for those of you who watch Mr. C streaming from the UK on Wednesdays, don't worry — those sessions will continue too.
USA live stream schedule
This live stream series would not be possible without a grant from the Infosys Foundation USA. Infosys Foundation USA was established with the mission of expanding computer science and maker education to K-12 students and teachers across the United States, with a focus on increasing access to underrepresented communities.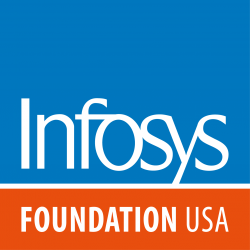 Infosys Foundation USA achieves impact through partnering with leading nonprofits, delivering innovative media campaigns that inspire everyone to be creators, not just consumers, of technology, and through signature professional development programs for teachers. Learn more and access free computer science and maker education resources through their Pathfinders Online Institute.

We're so thrilled to be partnering with Infosys Foundation USA to bring you more code-along content, so make sure to tune in every Thursday for our USA live stream!
Be well, and we'll see you next week!