MakeYourIdeas The eagerly anticipated first Pioneers theme launch is here! Have you registered your team yet? Make sure you do. Head to the Pioneers website for more details http://www.raspberrypi.org/pioneers And if you've no idea what we're talking about, here's Owen to explain more https://www.youtube.com/watch?v=nPP3dfTlLOs&t=18s And thanks to Owen for the video.
The world has become a bit too serious, and we're a bit worried that April Fool's Day 2017 is going to be a bit of a disappointment. With this in mind, the first Pioneers challenge has been set: we want you to make us laugh using tech. We'll be selecting the best gags, pranks and capers in time to save April Fool's Day.
You'll need to get your video to us by Wednesday 22 March 2017. That'll give us enough time to wipe the tears of laughter from our eyes, and pick our most awesome for April Fool's Day.
Entrants will get sent swag for taking part, and the most awesome entries will also win one of the following prizes:
WOW: a place at the Pioneers camp on Saturday 29 July in London, attended by Raspberry Pi Foundation staff and some of the world's most amazing technologists!
AMAZING: the chance to turn your amazing make into a resource so that other people can be blown away by your brilliance!
FANTABULOUS: make a video with the Raspberry Pi team and feature on our YouTube channel!
SPLENDID: have a whole article written about your greatness for our magazine, The MagPi, or the Raspberry Pi blog
Now, what do we mean by tech? Raspberry Pis, Arduinos, hacked toys, an app that tricks your friends, massive amounts of LEDs and buzzers… Whatever you want to use, provided it could be described as 'tech', is absolutely fine. All you need to do is to use digital technologies to make your project. That might mean programming a computer, building a website, hacking some hardware, building a prototype, or using a 3D printer, to name a few possibilities. It's much more hands-on than just checking your email or creating a PowerPoint presentation, though. The clue is in the hashtag: #MakeYourIdeas.
We've pulled together some cool ideas we've seen that would fit our challenge. These are just ideas to get you started though: we aren't just expecting you to recreate something you see here. If you do do that, that's fine too, but try to add your own little twist to it.
Remember, we're setting this challenge to be fun. Be sure you don't hurt people, or seriously embarrass them.
What now?
First things first; find your mentor and register your team.
We've drawn up this overview of the Pioneers process to give you an idea of what to expect: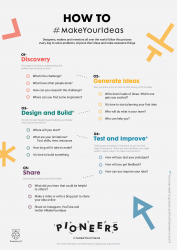 Below we've brought together some projects we like to spark off some ideas – you could try some of them out to level up your skills before tackling your own laser-eyed, joke-telling shark…
Once you're feeling inspired, head over to the support page to get some ideas about what's possible.
Finally, don't forget to submit your make by Wednesday 22 March 2017.