Has anyone any reason why this might not be suitable for driving from a Pi?
Has anyone managed to control this display with the Pi? Or do I need to move to an Arduino
http://www.embeddedadventures.com/led_m ... -6432.html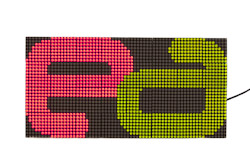 The LDP-6432 is a dual-LED, tri-colour 64 pixel by 32 pixel LED matrix display. Each pixel consists of a red and green LED (commonly referred to as "1R1G"). There are 2048 pixels and 4096 individually addressable LED elements. It includes shift-register circuitry such that all 4096 LEDs can be controlled with only 11 microcontroller I/O lines. Pixels can show as black (that is, completely unlit), red, green or orange (red+green).