A new release from Seeed Studio - Grove AI HAT for Edge Computing
https://www.seeedstudio.com/Grove-AI-HA ... -4026.html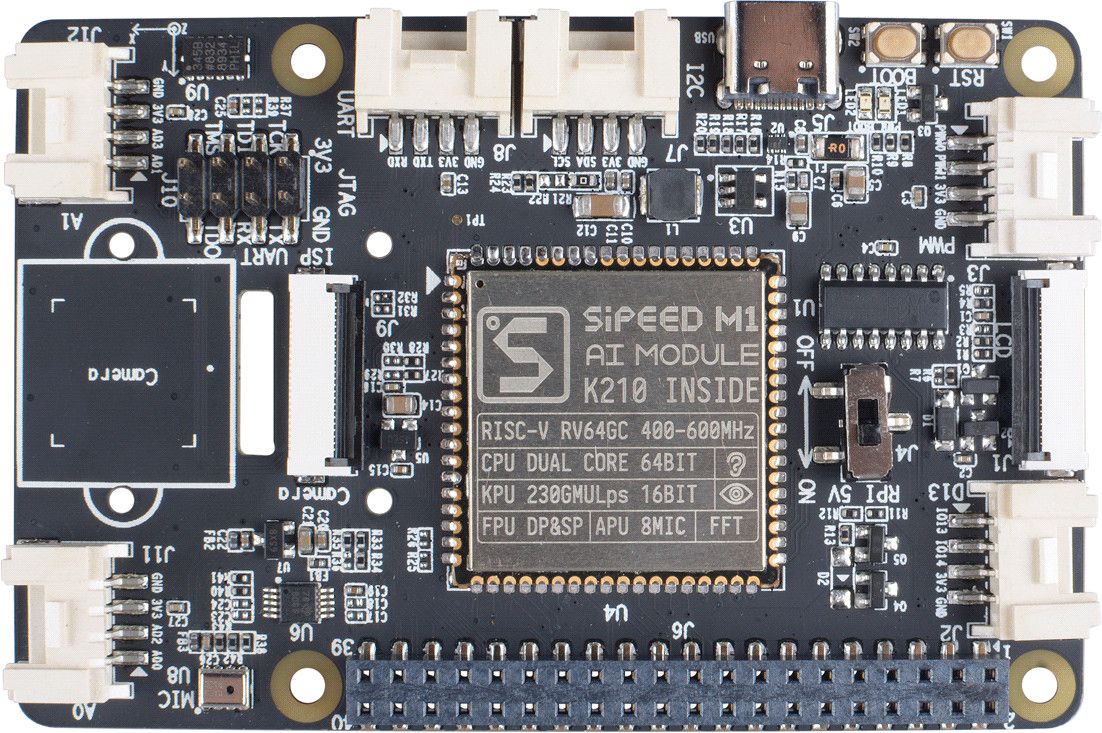 The Grove AI HAT for Edge Computing is built around Sipeed MAix M1 AI MODULE with Kendryte K210 processor inside. It's a low cost but powerful Raspberry Pi AI HAT which assists raspberry pi run the AI at the edge, it also can work independently for edge computing applications.
It will help you for these application:
AI for Edge Computing
Smart Building
Medical equipment
Automation & Process Control
Robot

Grove AI HAT specifications:
AI Module – Sipeed "MAIX" M1 with Kendryte K210 dual core RISC-V processor @ 600 MHz, KPU Convolutional Neural Network (CNN) hardware accelerator, APU audio hardware accelerator, 8 MB general purpose SRAM including 5.9MB usable as AI SRAM memory
Camera I/F – DVP camera support; two mounting locations (top and bottom of the board)
Display I/F – Supports for Sipeed 2.4″ QVGA LCD display
Audio – Built-in microphone
USB – 1x USB 2.0 Device type C for power and programming
Expansion
40-pin Raspberry Pi connector with I2C/UART/SPI/I2S/PWM/GPIO.
6x Grove connectors: 2x analog, 1x UART, 1x I2C, 1x PWM, 1x digital
Debugging – 8-pin UART/JTAG header
Misc – Boot & reset buttons, boot (user programmable) & power LEDs, switch for RPi 5V, on-board 3-axis accelerometer
Power Supply – 5V via USB type-C port, or Vin pin on Raspberry Pi header
Dimensions – 83 x 55 mm (4x Raspberry Pi HAT mounting holes)

Hope this could help both Raspberry Pi and and AI lovers!