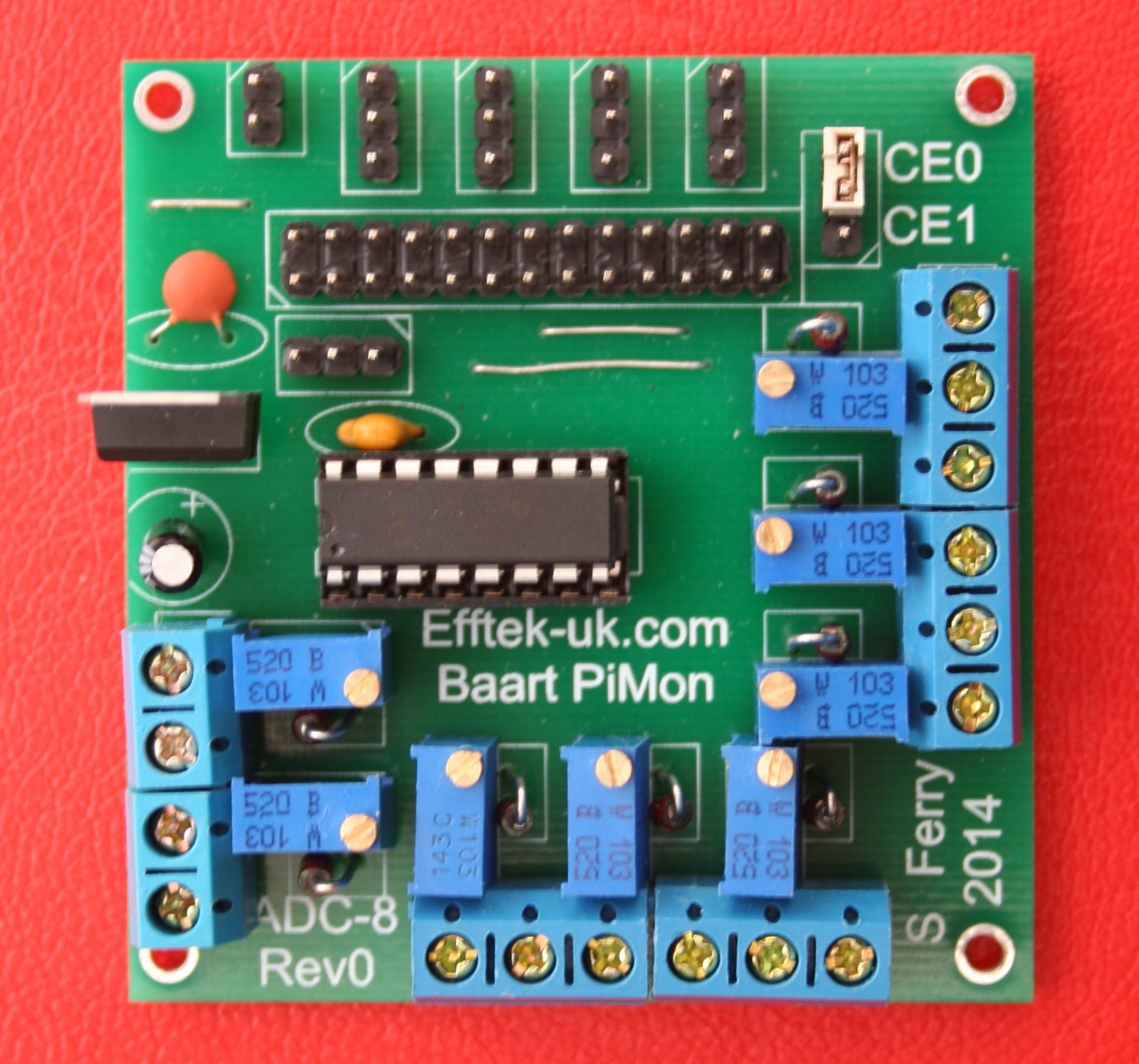 The Baart ADC-8 is an 8 channel ADC board which can be connected to the Raspberry Pi SPI interface via a ribbon cable. The SPI interface can obtain much higher samples per second than the I2C ADC boards (I'm getting 25 ksps by bit-banging and possibly higher if the code can be optimised). A quick shuftie through the Raspberry Pi forum or Google will reveal just how many programming examples there are for this type of ADC chip in C++, Python and a host of other flavours. Eventually, it is intended to have a repository of examples on our own website
http://www.baart.co.uk
(coming soon)
The boards were originally designed for an industrial use monitoring gearbox vibrations remotely via the internet but it was designed to be very versatile and accept a range of sensors rather than re-inventing the wheel for future needs.
The board features a very stable 3.3V supply and reference voltage from the Pi's 5V supply using a regulator and smoothing capacitors as the Pi's own 3.3V line tends to be unstable. Each input has a voltage divider in the form of a 23turn trimmer so input voltage ranges are from 0-3.3V to 0-25V. They are also overvoltage and reverse polarity protected so you won't accidentally fry the chip. Calibration of the trimmer for any given voltage range is a simple process and is included in the instructions.
Several of the Pi's GPIO lines are accessible via 3pin SIL connectors on the board for easy access. The chip supplied is a 12 bit MCP3208 which would be capable of 100k samples per second if the Pi would let it but using the conventional SPI, speeds of 10-20k SPS should be manageable and MUCH higher speeds using 'bit-banging' The board will also accept the 10 bit MCP3008 and the 13 bit MCP3304 if you fancy a 'bit' of a change!
Connection of sensors to the ADC is by terminal blocks.
Finally, the board has a selectable chip enable line so two boards can be used with a multi socket ribbon cable giving 16 channels in total however, if you are familiar with the 'bit-banging' technique mentioned earlier, many boards can be coupled in parallel giving over a hundred channels - almost as many as SKY but much cheaper and fewer repeats!
The cost per board on eBay is £19.50 with £3.20 first class signed for delivery but I'm open to offers for a worthy cause!
Email me if you have any questions.
[email protected]
dont forget to mention where you read this please.